Are you ready to dive into the whimsical world of funny drawings, where hilarity meets horror and sleepy meets spooky? Dive in to meet the 18 Sleep-Deprived Creepy Characters that will not only tickle your funny bone but also awaken your artistic spirit!
Picture this: it's the witching hour, and your 3 AM mirror reflection reveals a yawning, disheveled version of yourself. But fear not! With their comically exaggerated exhaustion, these characters will make your mirror image look as fresh as a daisy.
Want even more drawing ideas? Why not try 30 Easy Drawing Ideas from Calm to Crazy Days? Or learn how to draw a perfect rose if you love flowers.
Draw like a PRO in 30 Days
Tips for Drawing 18 Sleep-Deprived Creepy Characters that'll make you feel fresh!
Having fun and allowing your creativity to flow is the key to creating sympathetic and humorous sleep-deprived characters. Here's a guide to help you create creepy characters that resemble the ones in the article from Full Bloom Club:
1. Emphasize Exaggerated Expressions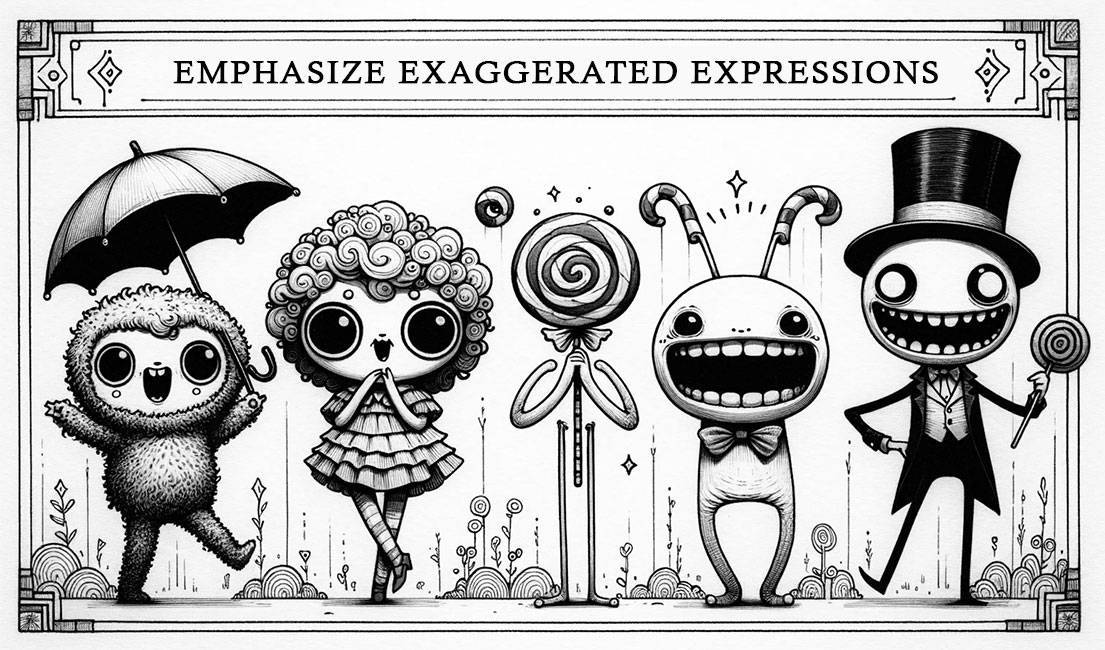 Focus on exaggerating the tiredness and frustration in their expressions. Highlight the bags under their eyes, drooping eyelids, and yawns to convey their sleep-deprived state. Make their facial features comically pronounced.
2. Play with Disheveled Hair
Give each character wild and unruly hair. Create a sense of chaos and humor in their appearance by tousling their hair in unique and amusing ways. Bedhead and tangled locks can add a whimsical touch.
3. Highlight Coffee and Caffeine
Incorporate coffee cups, mugs, or coffee pots as props for many of these characters. Show them desperately sipping coffee with spilled coffee stains or even struggling to brew a fresh cup.
4. Exaggerate Accessories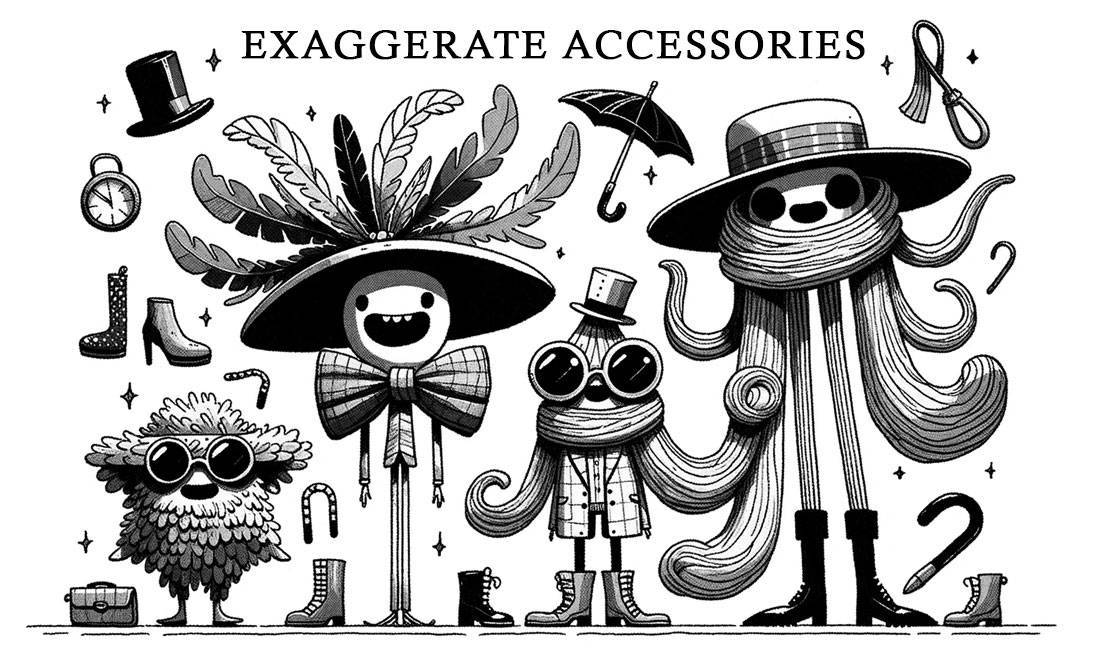 Emphasize any accessories these characters might have, like glasses, hats, or capes. Make these accessories appear slightly disheveled or out of place due to their sleep-deprived antics.
Draw like a PRO in 30 Days
5. Pose Creatively
Experiment with dynamic and humorous poses that reflect their fatigue. For example, a character might be slumping, stumbling, or barely managing to stay awake. Make their body language tell a story of exhaustion.
6. Incorporate Props
Use props that symbolize their struggles with sleep. A character could be surrounded by alarm clocks, counting sheep, or tangled in bedsheets. These props add depth to the character's story.
7. Play with Lighting
Experiment with lighting to create a nighttime or early morning atmosphere. Use shadows and highlights to enhance the mood and emphasize their tiredness.
8. Use Comedic Elements
Add comedic elements like exaggerated yawns, cartoonish expressions, or over-the-top reactions to mundane sleep-deprived situations. This will make the drawings funny and relatable.
9. Experiment with Colors
Play with a muted color palette to convey the nighttime setting or early morning hours. Highlight certain elements with bright colors, like the characters' eyes or coffee cups, to draw attention to key details.
10. Capture Their Unique Personalities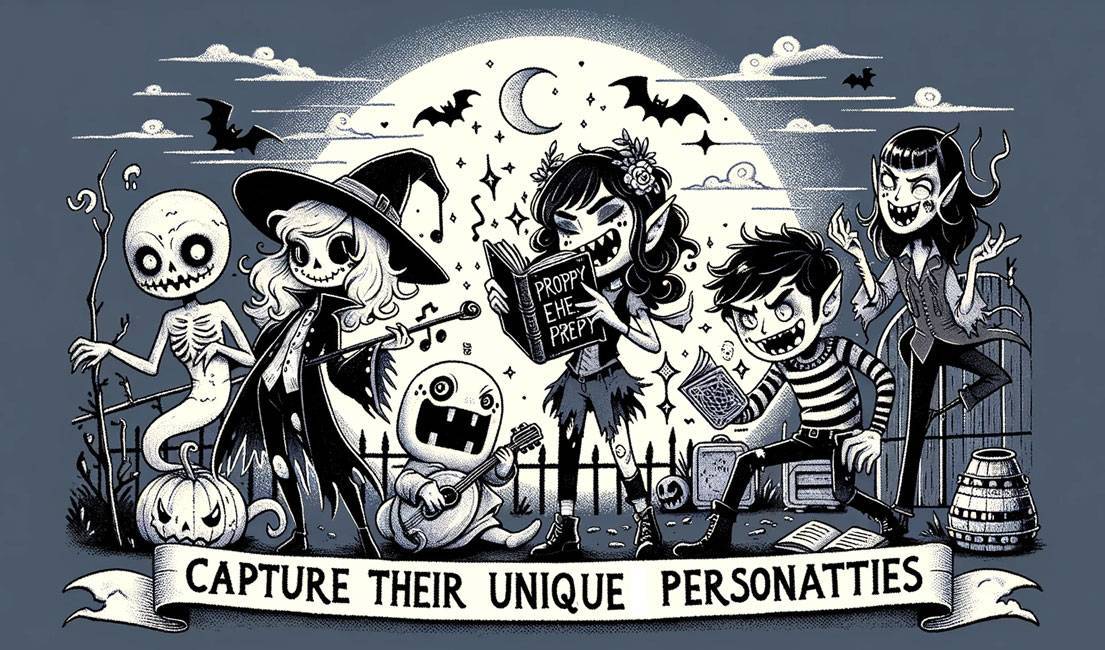 Each character has its own personality and story. Ensure that their expressions, postures, and props reflect their individual quirks and sleepless experiences.
11. Practice Details

Pay attention to small details like wrinkles on their clothes, stubble, or chipped nails to add authenticity and humor to the characters.
12. Study Real-Life References
Observe people in real-life situations where they are tired or sleep-deprived. This can provide you with inspiration for capturing authentic expressions and body language.
13. Add Background Elements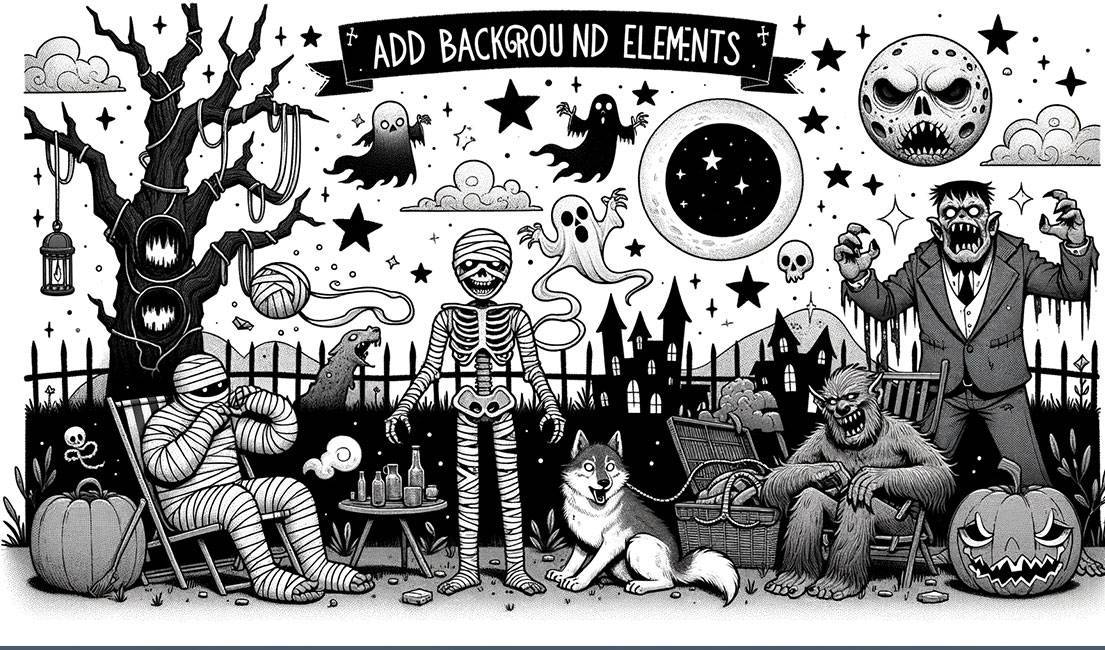 Consider incorporating elements from their environment, like messy bedrooms, nightstands with alarm clocks, or dimly lit spaces. These details can enhance the storytelling aspect of your drawings
14. Experiment with Textures
Use texture techniques to make elements like fur, scales, or clothing appear tactile and interesting. Texture can add depth and visual appeal to your illustrations.
Draw like a PRO in 30 Days
15. Stay Consistent
If you're creating a series of characters, maintain consistency in style, colors, and proportions to ensure they look cohesive as a group.
Let your creativity shine, and don't be afraid to push the boundaries of exaggeration to make them truly hilarious and endearing.
18 Sleep-Deprived Creepy Characters to Draw
Get ready for a journey filled with laughter, artistic inspiration, and a dash of sleep-deprived shenanigans. It's time to put pen to paper and bring these hilarious and relatable characters to life!
1. Zombie Zeke Zonked Out on Zero Sleep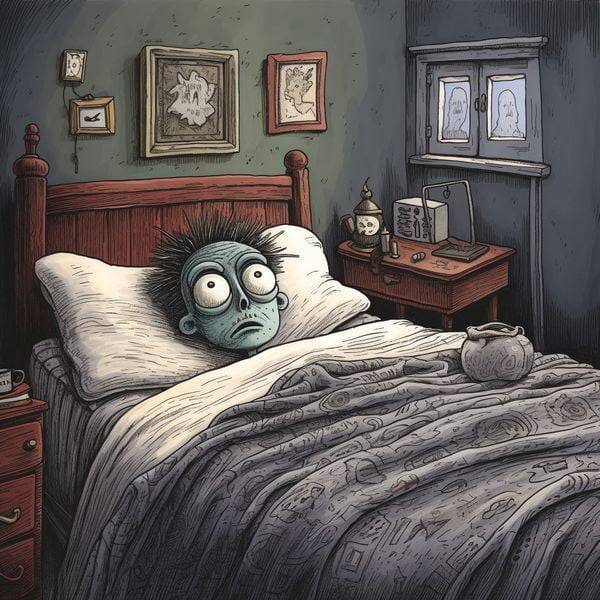 Introducing Zombie Zeke, the living dead with a knack for turning sleepless nights into a sidesplitting spectacle. Picture him with eyes as hollow as a donut, shuffling through life like a zombie on a caffeine withdrawal spree. Zeke's groans and yawns are the midnight comedy show you never knew you needed, a friendly reminder that even the undead deserve their beauty rest.
2. Dracula Dan Dragging After a Dismal Disco Night
Dracula Dan, the night owl of the supernatural world, is flaunting a pair of dark circles that could put raccoons to shame. His once-imposing cape is now a wrinkled fashion faux pas, and his fangs are more like tiny cocktail toothpicks. Sketching Dan feels like catching a vampire's rough morning after a night of disco debauchery, a hilarious twist on funny drawings.
3. Snoozy Sam the Sasquatch Struggling to Silence His Snoring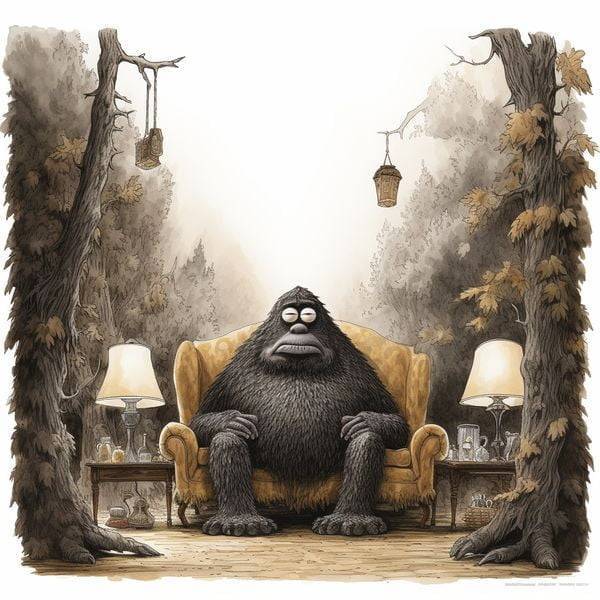 Enter Snoozy Sam, the lumbering Sasquatch whose snoring can rattle the roots of trees. His furry face is a symphony of tangled bedhead and a puzzled expression. Sam's attempts to hush his snores often result in slapstick mishaps, like trying to use a tree trunk as a mute button.
Draw like a PRO in 30 Days
4. Grumpy Greg the Goblin Grumbling Over Gone Cold Coffee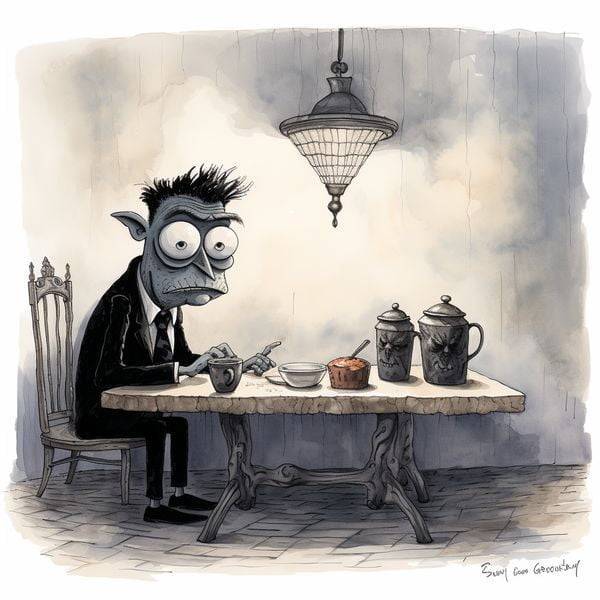 Meet Grumpy Greg, the goblin who's more sour than a lemon at breakfast. His coffee has cooled down faster than an ice cube in the desert, and Greg's grumbling could wake the whole neighborhood. With ears pointier than a cactus, Greg embodies the struggle of a coffee catastrophe. Drawing him is like capturing the exact moment your morning brew goes from piping hot to "meh," a hilarious twist in the world of funny drawings.
5. Tired Tina the Troll Tossing and Turning Over Taxes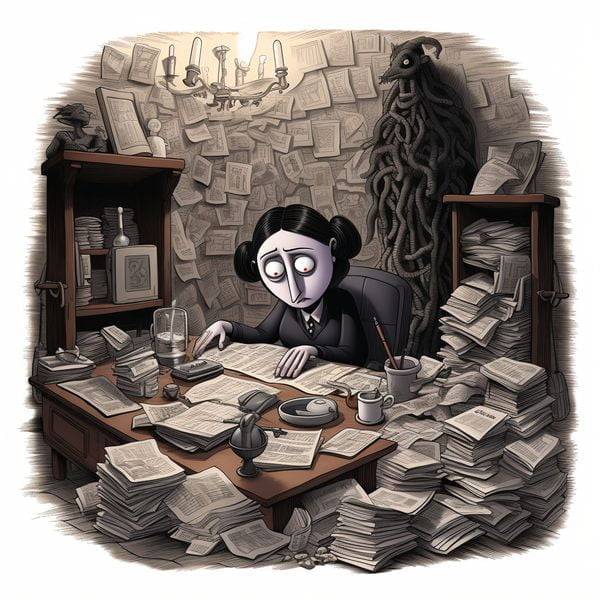 Tina, the troll, tangled up in a taxing tango, tossing and turning like a salad on her rocky bed. Tina's quest to conquer taxes turns into a slapstick saga of forms and numbers. In the realm of funny drawings, sketching Tina feels like documenting the comical misadventures of every taxpayer in a land of bewildering bureaucracy.
Draw like a PRO in 30 Days
6. Bedhead Brenda the Banshee Bemoaning Her Bad Hair Day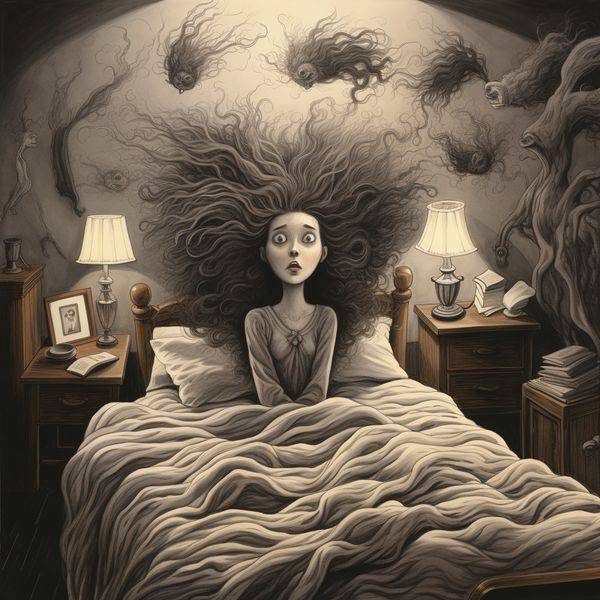 Meet Bedhead Brenda, the banshee whose wails are less about haunting and more about her hair. Her ethereal shrieks have turned into hair-raising howls as she combats the ultimate bad hair day. Drawing Brenda feels like capturing the essence of those mornings when your hair decides to rebel like it's auditioning for a horror movie, a twist in the world of funny drawings.
7. Weary Wendy the Werewolf Wishing for Weekend Zzz's
Weary Wendy, the werewolf in dire need of weekend Zzz's, is a howling reminder of those Monday blues. Her fur is knotted like a confused slinky, and her face resembles more than a sad puppy's. Wendy's workweek struggle is as tangled as her fur, and drawing her captures the universal longing for the weekend, adding a hilarious twist to the world of funny drawings.
8. Morning Mike the Mummy Mourning His Missing Mocha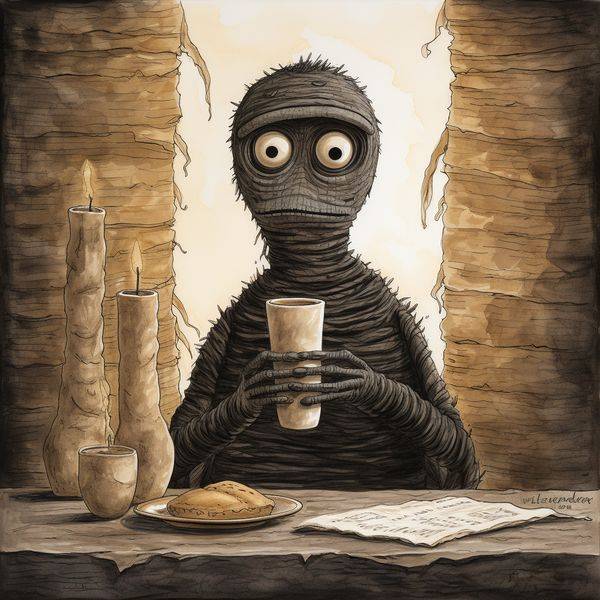 Morning Mike, the mummy mourning his mysteriously missing mocha, is all wrapped up in caffeinated chaos. Frustration unravels his bandages, and his sarcophagus doubles as a bed and brewing station. Sketching Mike documents the daily caffeine craving of every office-goer, lost in the labyrinth of the morning, offering a whimsical twist in the realm of funny drawings.
Draw like a PRO in 30 Days
9. Snooze-button Steve the Specter Stuck in a Sleep Snooze Saga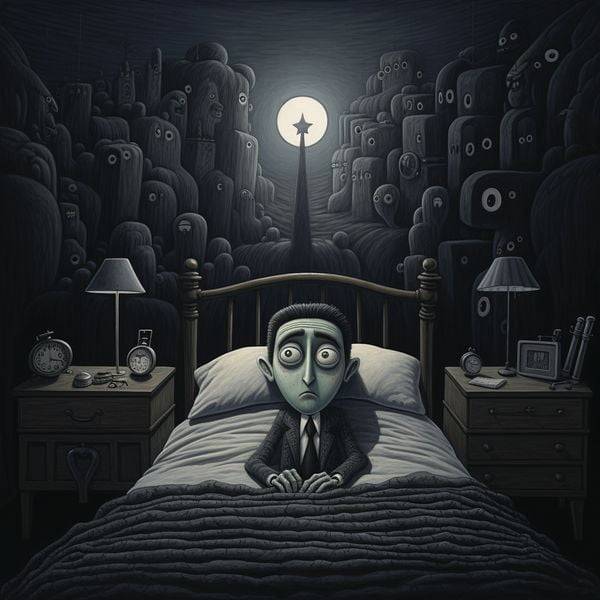 Snooze-button Steve, the spectral sleep enthusiast, faces an unending sleep snooze saga. His ghostly alarm clock haunts him like a relentless poltergeist. With each tap of the snooze button, Steve turns more transparent, and his patience wears thinner than a ghost's sheet. Steve's battle against the phantom urge to sleep unfolds like a sidesplitting comedy, capturing the timeless struggle between slumber and responsibility, adding a whimsical touch to funny drawings.
10. Dozy Dave the Demon Desperate for a Drip of Decaf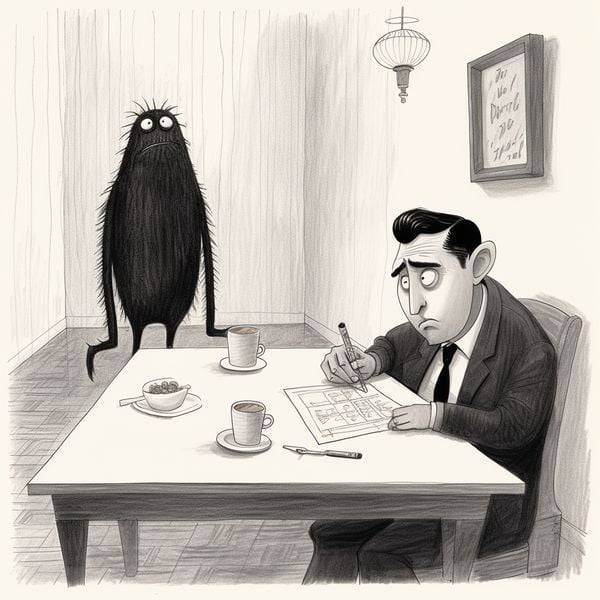 Meet Dozy Dave, the demon whose infernal insomnia has him begging for a decaf drip. Once instruments of terror, his horns now serve as makeshift pillows in his desperate quest for sleep. Dave's dreamscapes are a hilarious hodgepodge of chaos and caffeine cravings, offering a humorous twist to the world of funny drawings.
11. Napless Nellie the Nymph Navigating Nightshift Nonsense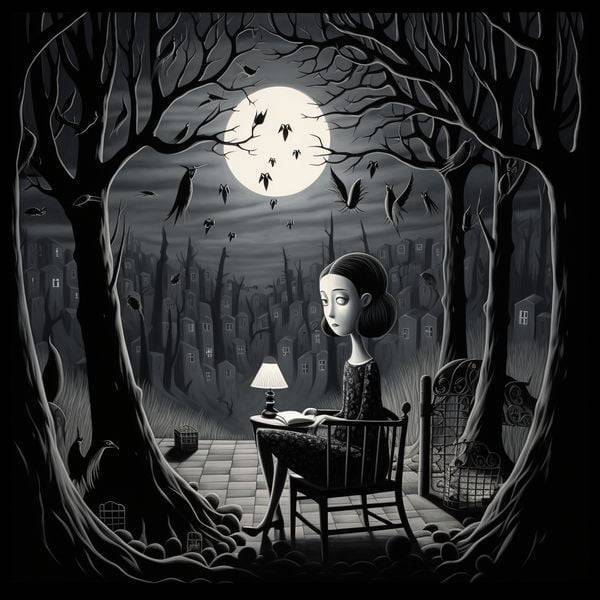 Napless Nellie, the nymph on the nightshift, embarks on whimsical twilight adventures. Her drowsy dance through the darkness is a comical ballet of accidental twirls and hilarious stumbles igniting laughter into the world of funny drawings, where the night becomes a playground of drowsy wonders.
12. Lethargic Larry the Lycanthrope Longing for a Late Latte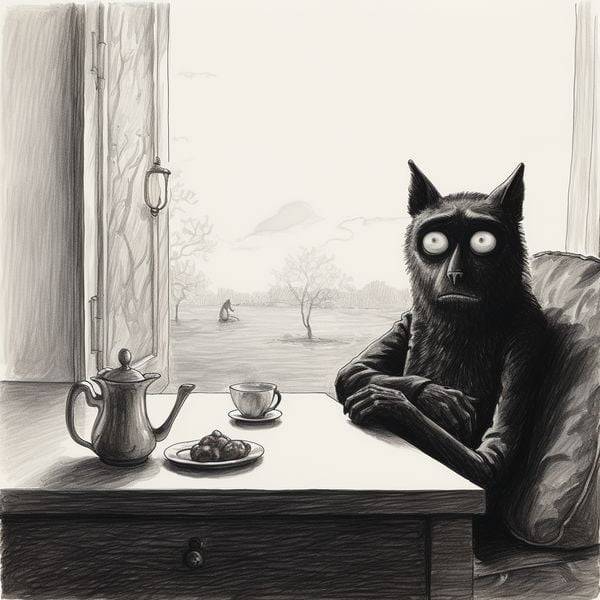 Lethargic Larry, the lycanthrope whose moonlit cravings center around late lattes, is a caffeine-hungry creature. His fur, as unruly as a caffeine junkie's hair, and his growls, more about mocha than moonlight, tell the tale of a howlingly humorous coffee quest. Larry's escapade adds a twist to the realm of funny drawings, where even lycanthropes can't resist the call of a late-night brew.
Draw like a PRO in 30 Days
13. Sleepy Sue the Sea Serpent Surfing the Sofa for a Snooze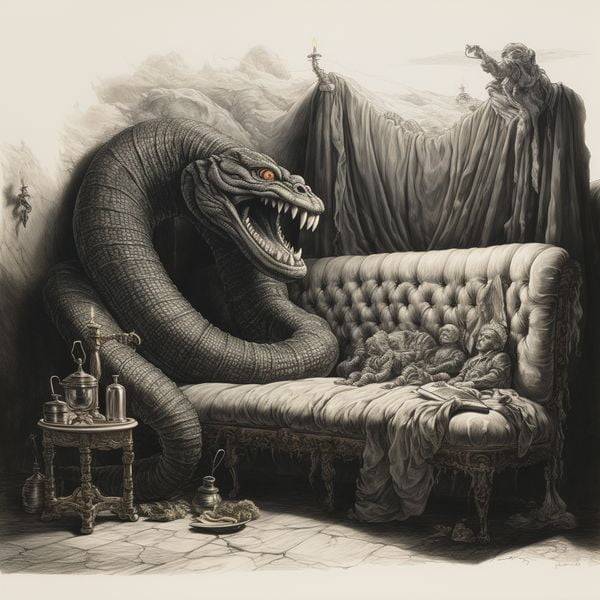 Meet Sleepy Sue, the sea serpent with scales that glisten with exhaustion as she rides the waves of the sofa in search of a sweet snooze spot. Her serpentine body contorts in the quirkiest of shapes, making the living room her aquatic naptime playground, adding a delightful twist to the world of funny drawings.
14. Breakfast Bob the Bogeyman Bumbling Before His Brew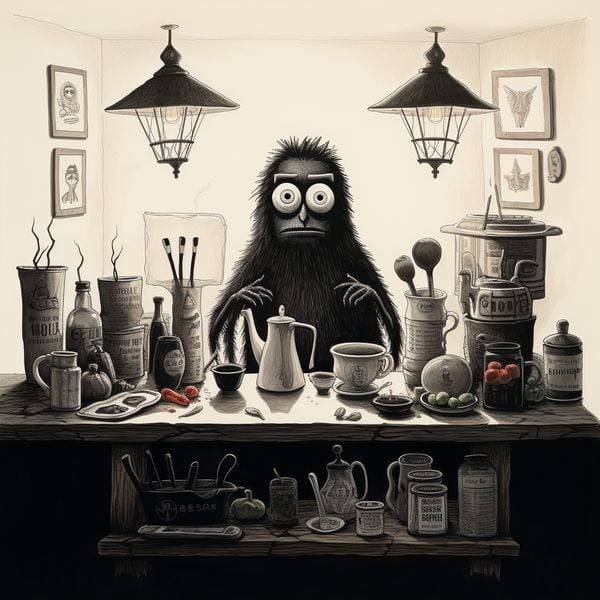 Breakfast Bob, the bogeyman with a bedhead that could rival a scarecrow's, stumbles through his morning routine with a single goal in mind: coffee! His clumsy kitchen antics resemble a classic slapstick comedy, from buttered toast catapults to cereal box avalanches, infusing humor into the start of the day in the world of funny drawings.
15. Drowsy Drew the Dragon Dreaming of a Duvet Day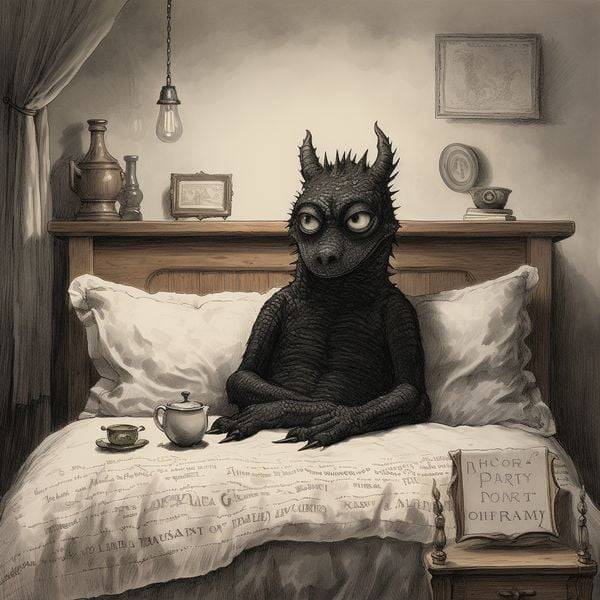 Drowsy Drew, the dragon whose fiery breath is momentarily replaced by cozy yawns, dreams of a day wrapped in the warm embrace of a duvet in a cloud-kissed land. His wings, usually associated with flight, now drape him like a snuggly cape. Drew's quest for the ultimate naptime is a whimsical journey into the world of dragon dreams, adding a layer of laughter to the realm of funny drawings.
16. Slumber-less Sarah the Sorceress Seeking a Sleep Spell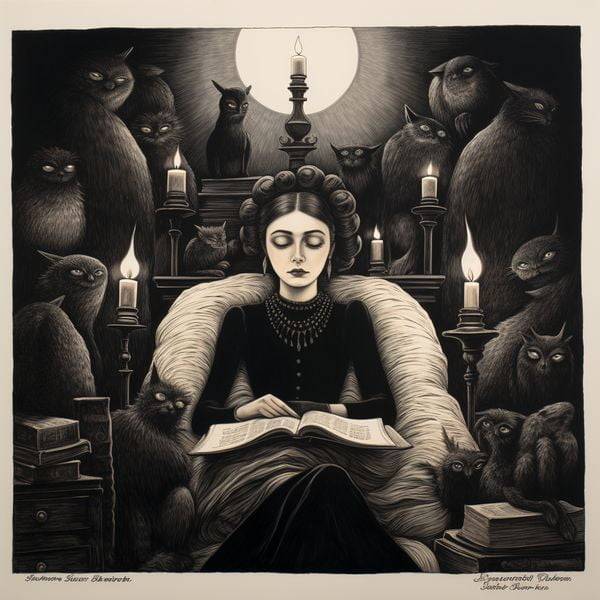 Meet Slumber-less Sarah, the sorceress who's carrying bags under her eyes heavier than her spellbooks! She's embarked on a quirky quest to find the elusive sleep spell. With her wand drooping from sheer exhaustion and her cauldron bubbling with caffeine-laden brews, Sarah's magical mishaps in pursuit of slumber are like a whimsical comedy show in the world of funny drawings.
17. Somnolent Sid the Spirit Sighing Over Spilled Sleep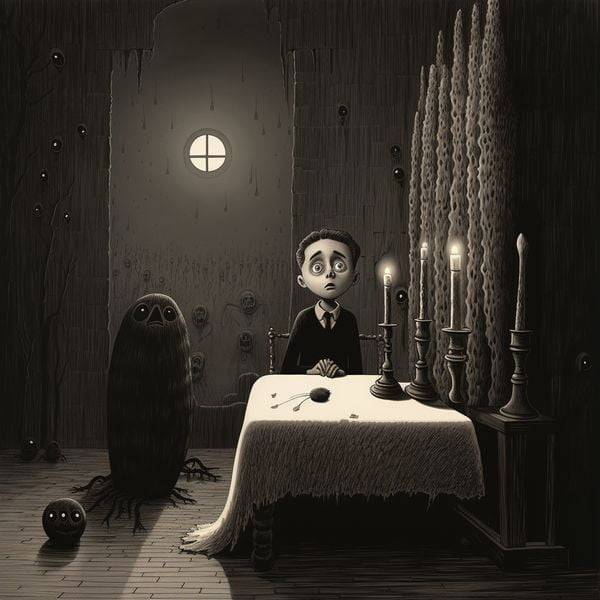 Say hello to Somnolent Sid, the spirit who's had more encounters with pillows than poltergeists! He sighs wistfully, over sleep that seems to have slipped through his ghostly fingers like ethereal mist. Sid's comical lamentations in the spectral realm serve as a charming reminder of the value of a good night's rest. His antics infuse humor into the world of funny drawings.
Draw like a PRO in 30 Days
18. Cranky Chris the Cryptid Craving a Cozy Comforter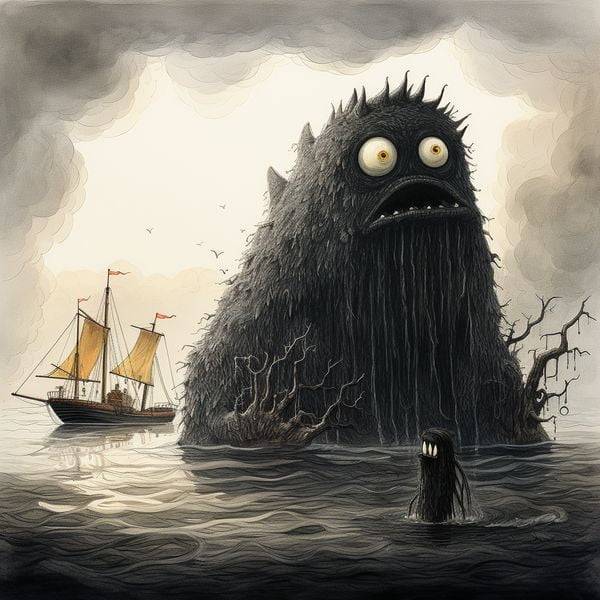 Cranky Chris, the cryptid whose growls are less about scaring and more about snuggling! Chris yearns for the warm embrace of a comforting comforter. His furry features are adorably ruffled, and his sleepy eyes squint in search of coziness. Chris's quest for a snug blanket takes him on a heartwarming adventure that resonates with the universal desire for warmth and rest. It adds a delightful dose of charm to the world of funny drawings.
Conclusion
As we wrap up our whimsical journey through the realm of 18 Sleep-Deprived Creepy Characters to Draw, we hope you've had a hearty dose of laughter and artistic inspiration. These characters, with their quirky tales of sleepless nights and comical exhaustion, are a reminder that humor can be found even in the most unlikely of places, like your 3 AM mirror reflection.
Keep those pencils dancing, your brushes swirling, and your heart brimming with joy as you sketch your way through the charming world of funny drawings. Remember, in the realm of art, there's always room for laughter, and creativity knows no bounds. May your artistic adventures be as lively as these sleep-deprived characters!
Draw like a PRO in 30 Days
Download Resources & Bonuses
Click here to download Resources from this post.
Download Full Bloom Club BONUS content HERE.
If you love step-by-step guides, check our VIP membership HERE, where we have a whole dedicated section for it with over 50 resources.
Want More?
If you want more drawing ideas, dive into the whimsical world of our 95 Eccentric Characters to Sketch to spark your creative flame. Love to sketch animals? Then go for our Ten Quirky Drawing Prompts to give your animal personas a touch of artistry.
Are you running out of ideas? Try our Heart-Melting Drawing Ideas that will undoubtedly inspire you, or browse our store for distinctive creations. Keep drawing, and feel free to express your imagination!
Draw like a PRO in 30 Days