Not just a guide, but a joyride for your creativity!
Follow our step-by-step approach to master the most popular and trendy drawings of today.
And remember, it's not just about the progress but also the fun and excitement you'll experience along the way. Get ready to unleash your creativity and have a blast!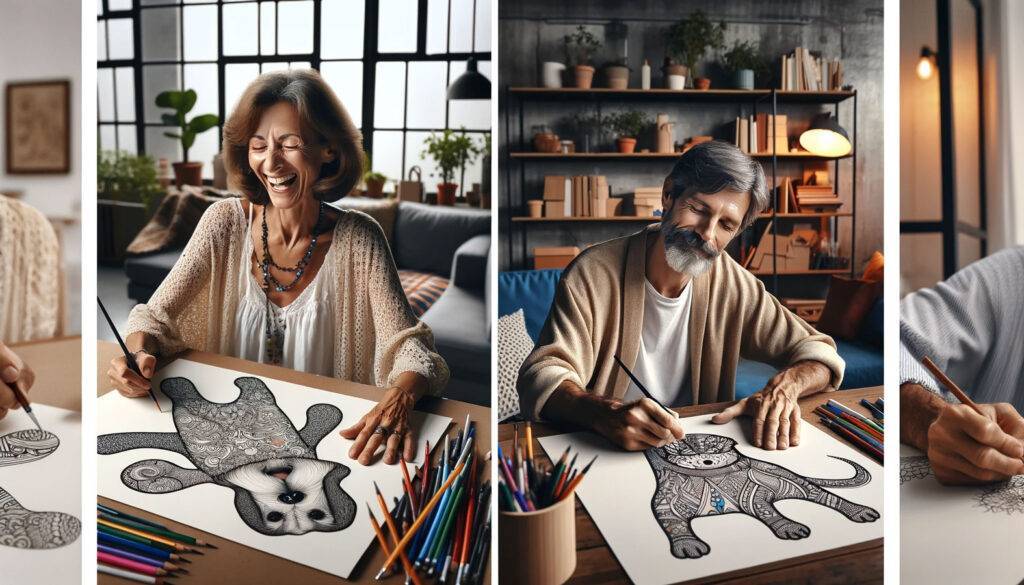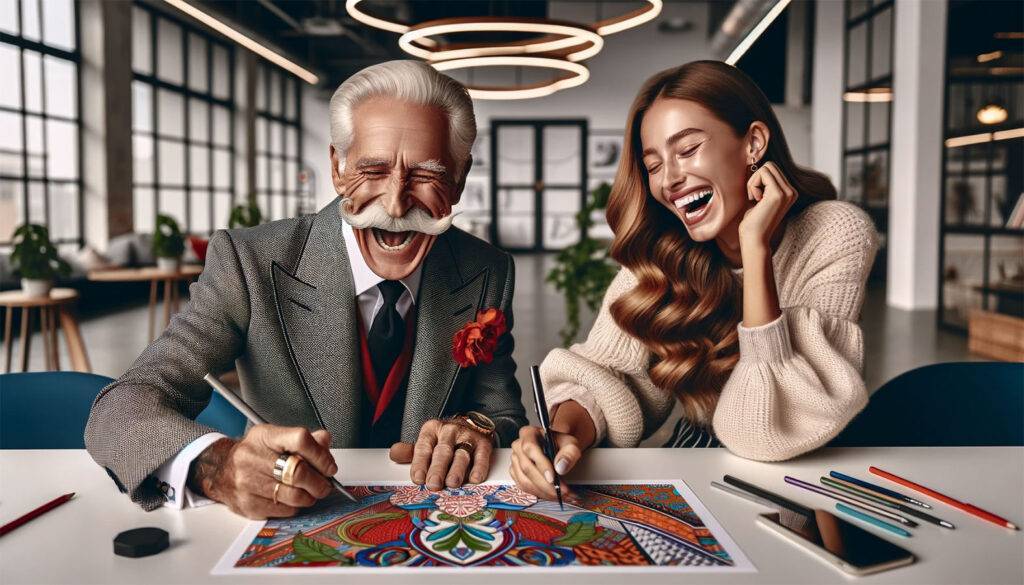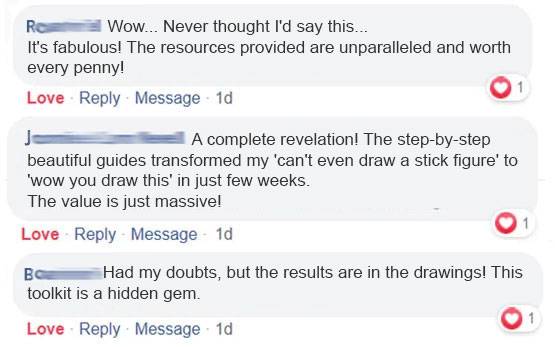 It's time to turn the mundane into the magnificent. No more just scrolling; it's your moment to create, even if your experience with a pencil has been nothing more than simplest doodles.
Dive into a world of artistic brilliance with our 150+ trending step-by-step drawing guides! Each is a quick ticket to joyous and serene art adventures, crafted for swift, dazzling results. Get ready for fast-track fun to profound creative satisfaction & excellence.
So grab your pencil and let your creativity flow – it's not just drawing; it's about having fun and making magic happen!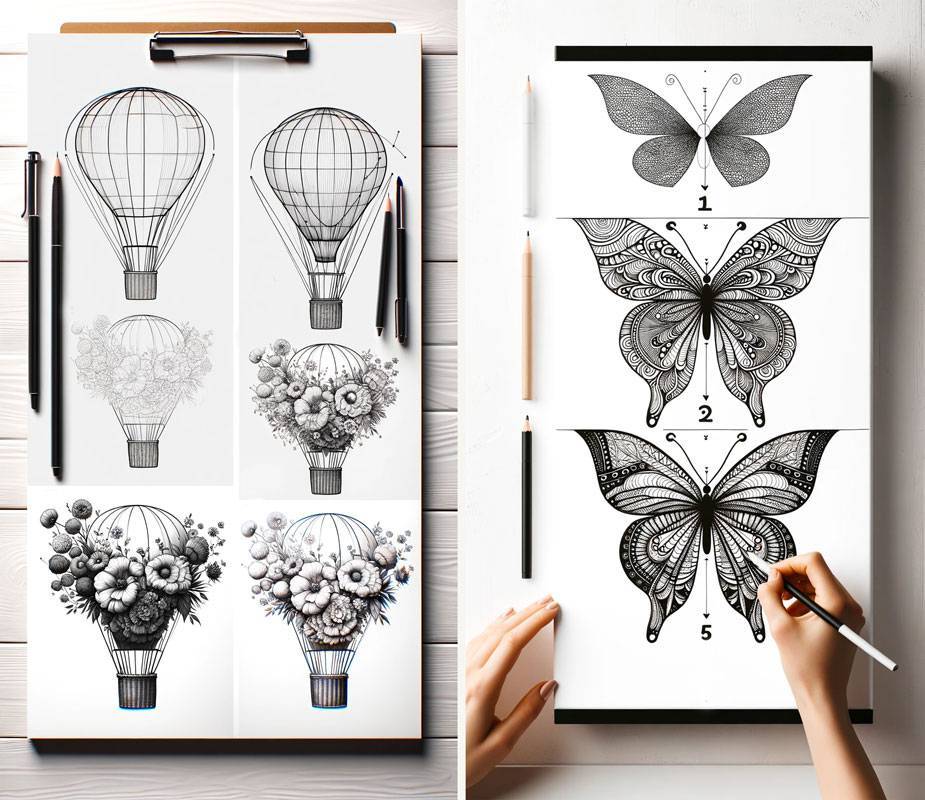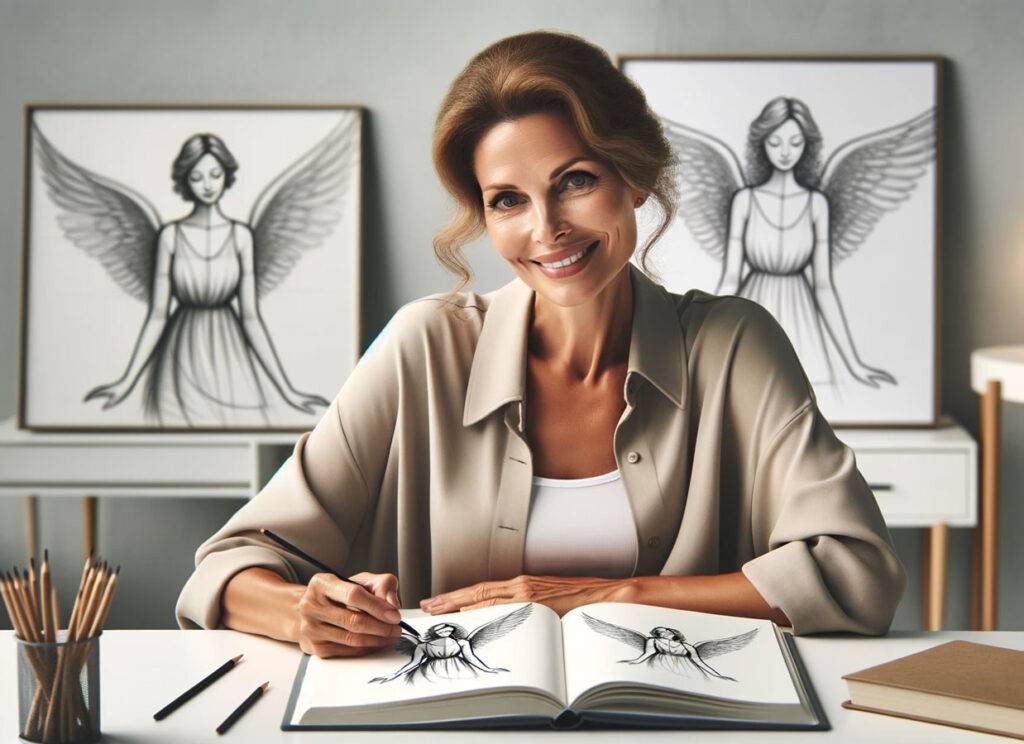 New Most Requested Bonus just Added!
"Angels Step-by-Step Worksheets"
These unique step-by-step worksheets are perfect for adding a touch of grace and elegance to your sketches. From delicate wings to serene expressions, you'll learn to capture the ethereal beauty of these celestial beings.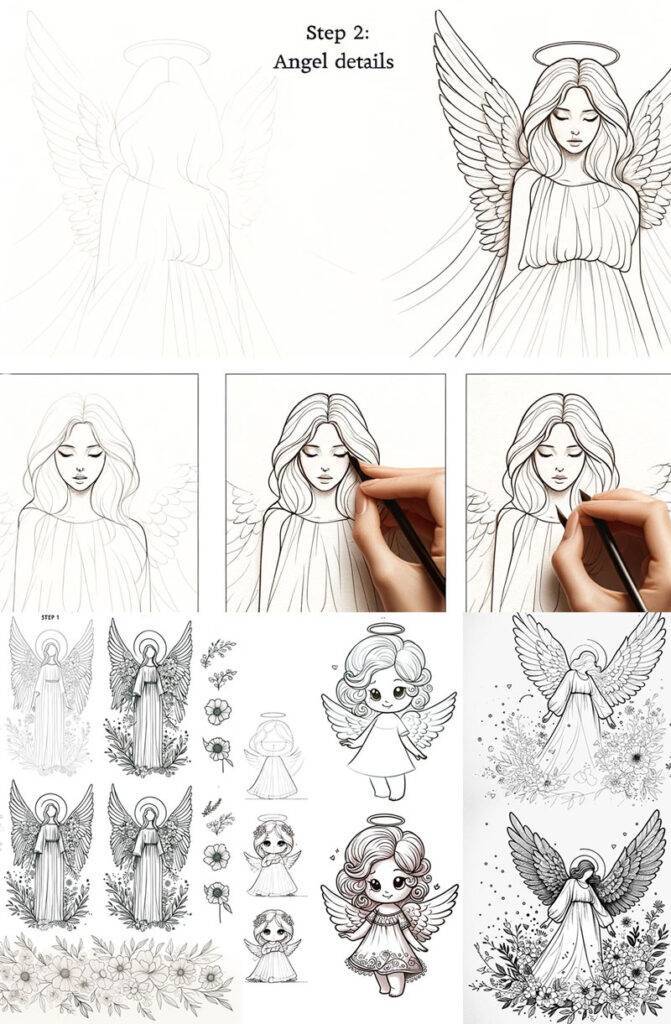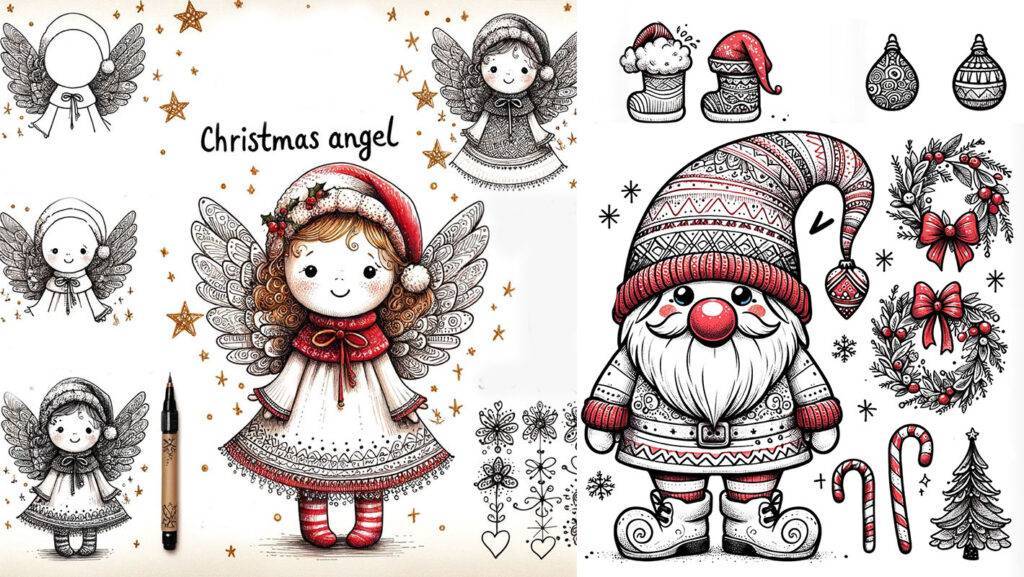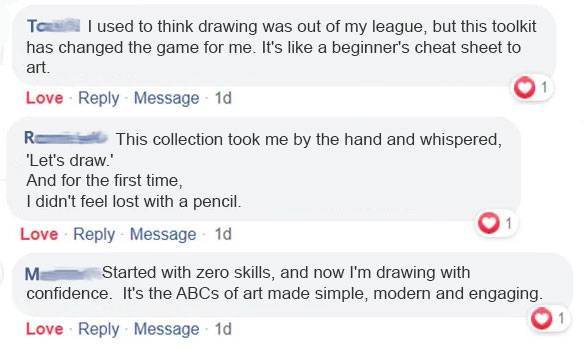 We've meticulously crafted over 150 step-by-step guides, each one tailored to help you navigate through the most enchanting, relaxing, and downright satisfying drawing experiences you'll ever encounter.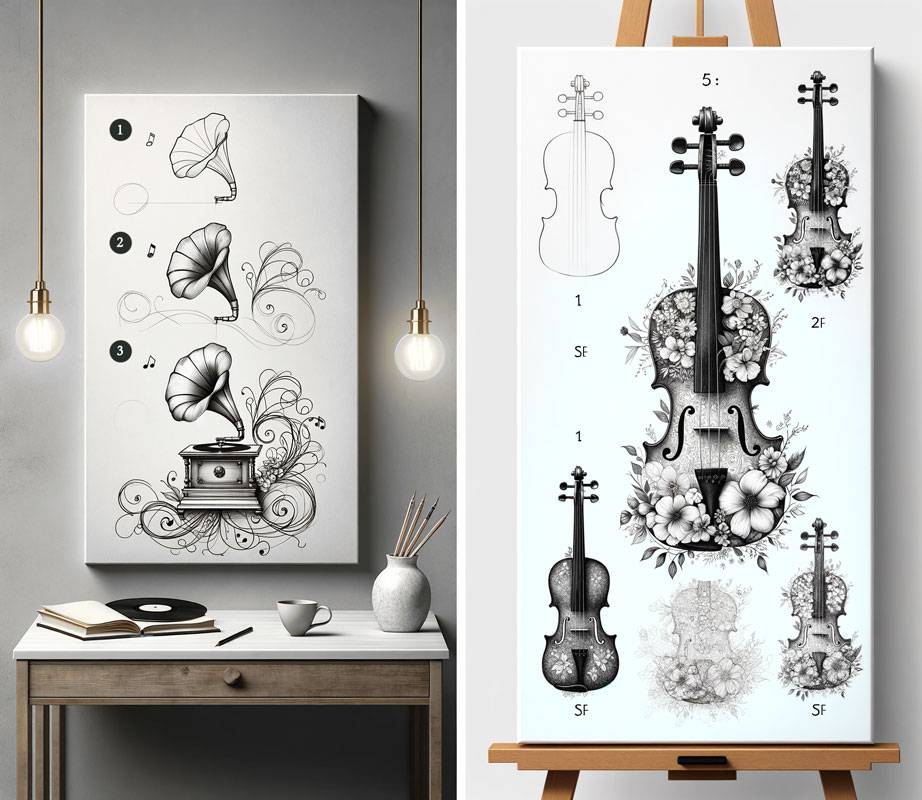 These aren't your run-of-the-mill sketches. We're talking about the kind of art that stops scrollers in their tracks, the kind that garners admiration and "how did you do that?" exclamations from friends and family.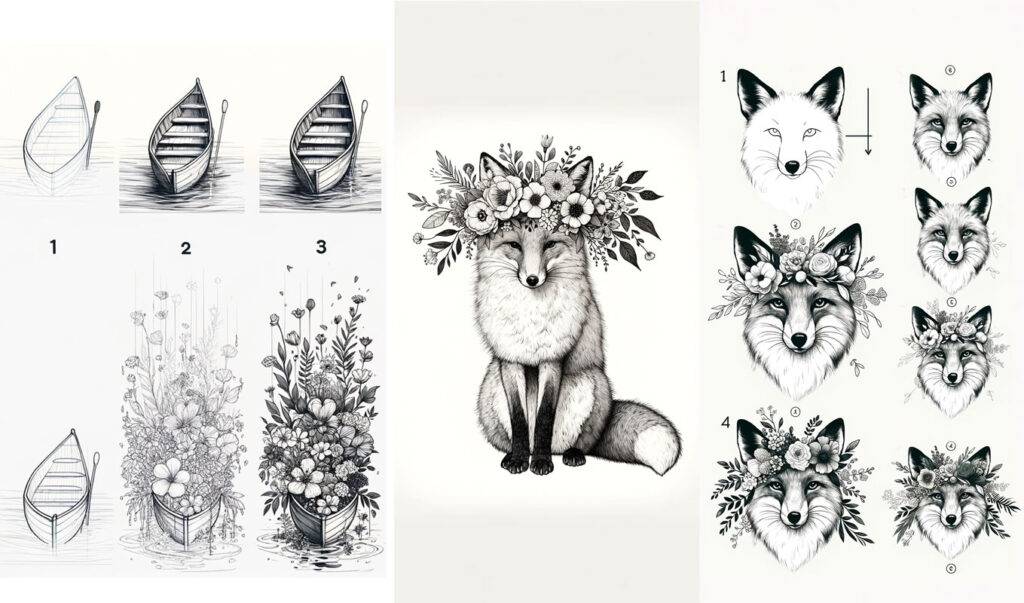 Embark on Your Artistic Journey – NO Experience Required!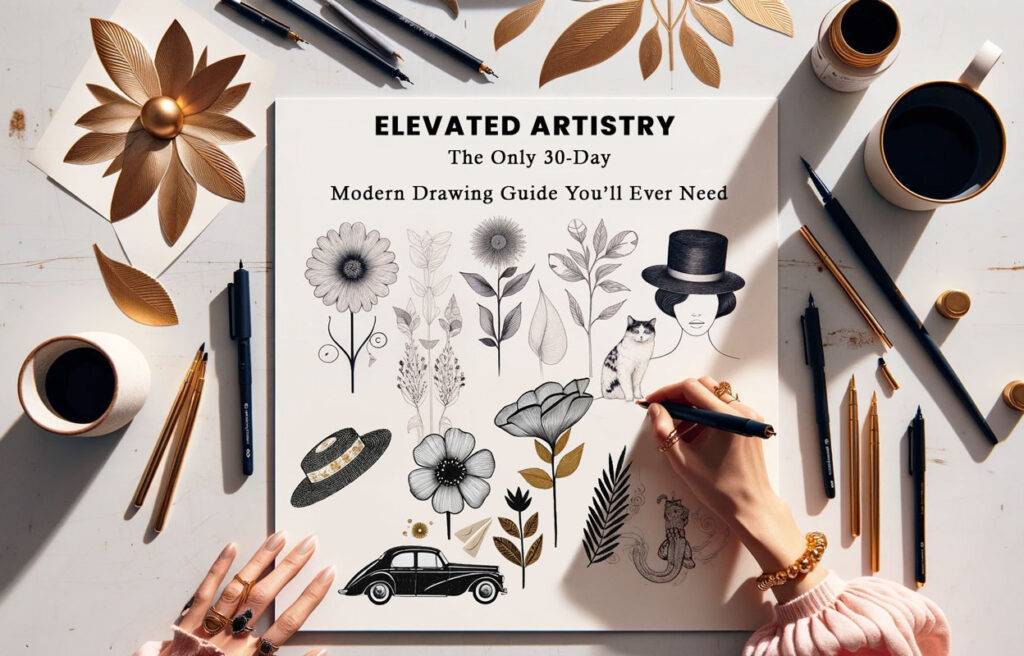 Elevated Artistry is your 30-day guide to unlocking the artist within. Designed for complete beginners and those who have already dabbled in the art of drawing, it's the gentle nudge you need to transition from admirer to creator. If you've ever felt overwhelmed by where to start, our toolkit is the one-of-a-kind resource that promises to make the process enjoyable and fulfilling.
Customers rate the collection as "Truly satisfying!"
""From pencil pusher to gallery-worthy in under a month!" — Sue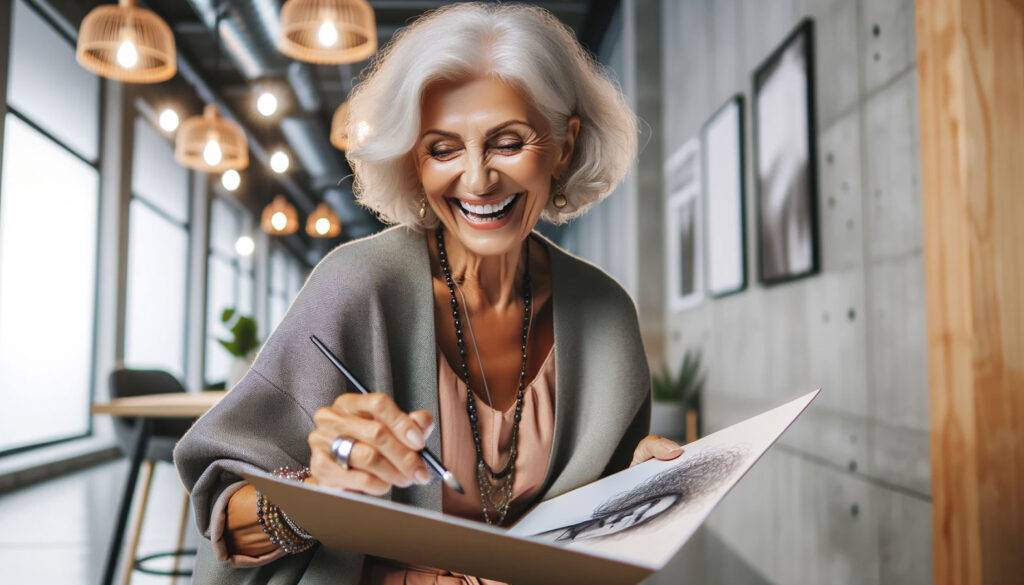 Elevated Artistry: The Only 30-Day Modern Drawing Toolkit You'll Ever Need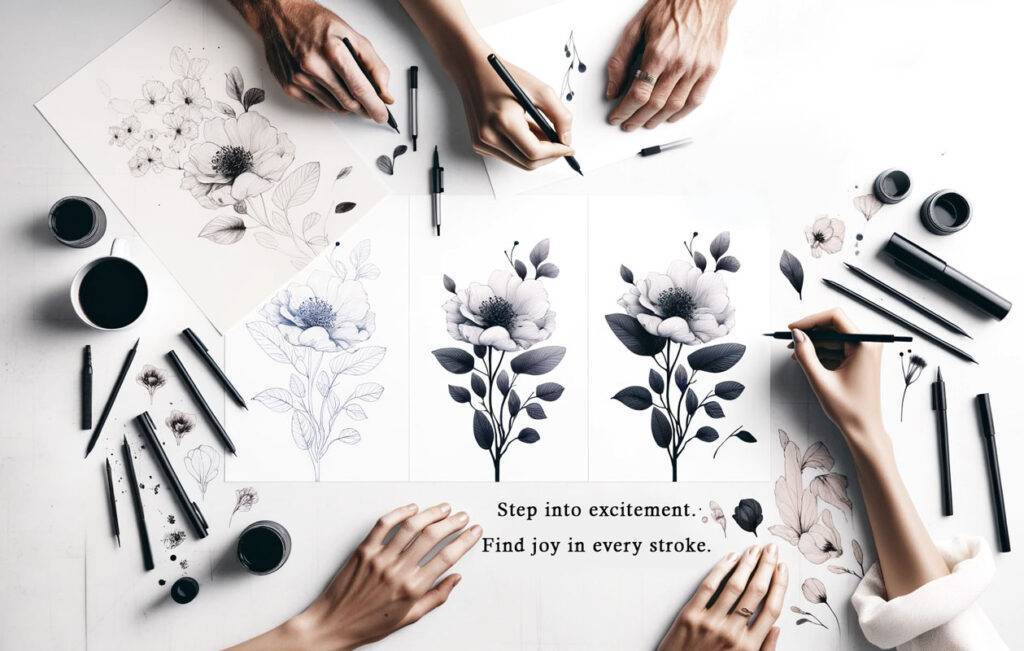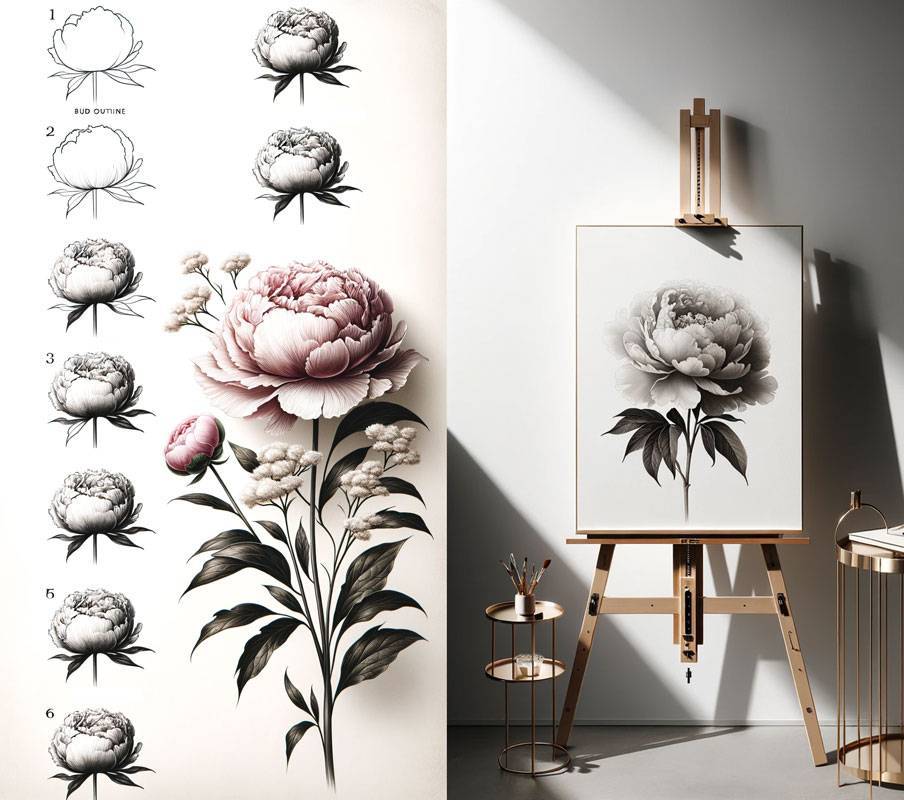 Unique, world-class resources all in one place.
We've crafted the best of the best to save you endless hours of searching, ensuring you spend your time where it counts: boosting your creativity and skill. With these unparalleled tools at your fingertips, you're set to elevate your artistry efficiently and affordably, propelling your talent to new heights faster than ever before.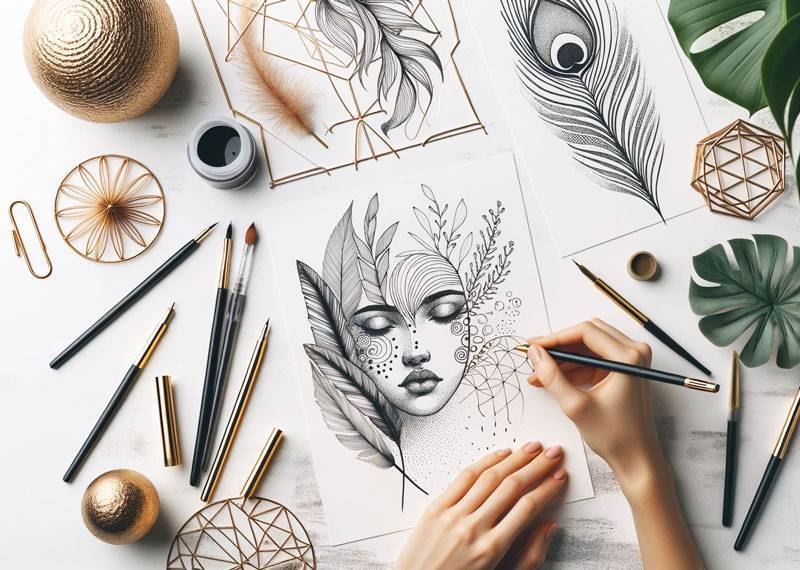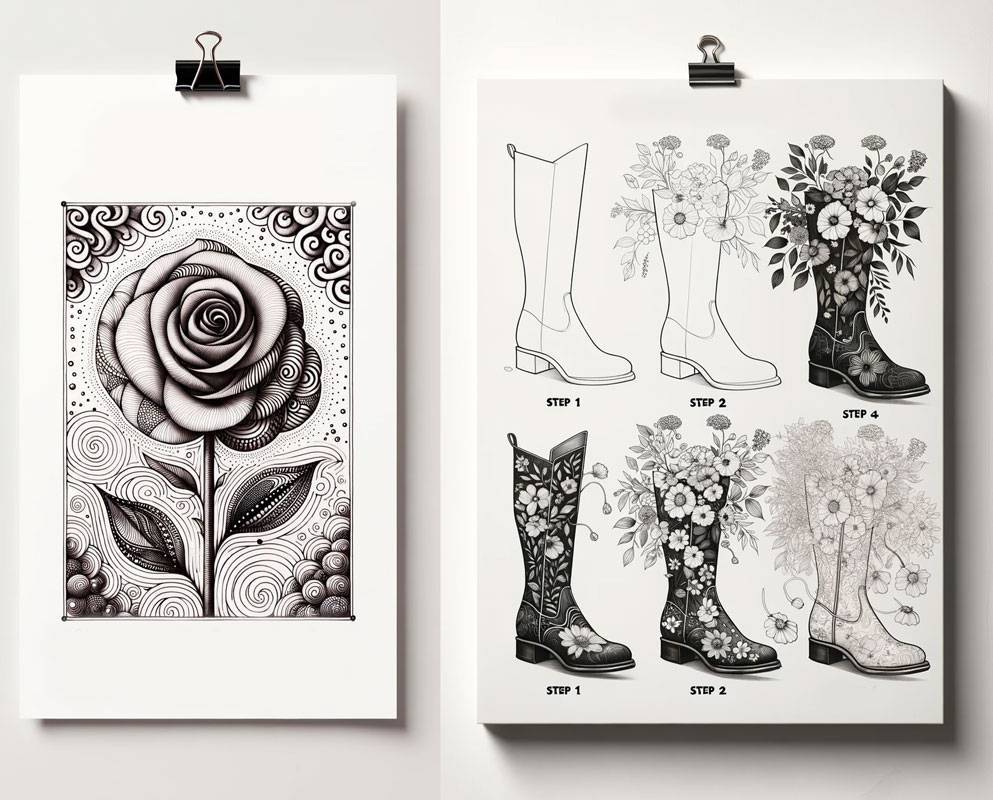 What You'll Discover:
Fundamental Techniques: Grasp the core drawing techniques that form the backbone of any successful artist's toolkit. From lines and shapes to perspective and shading, we've got it all covered.

Modern Art Styles: Delve into contemporary art styles that are reshaping the art world. Learn to blend traditional skills with modern aesthetics to create works that are truly your own.

Creative Confidence: Overcome the fear of the blank canvas. Our carefully designed exercises will gradually build your confidence, encouraging you to push beyond your creative boundaries.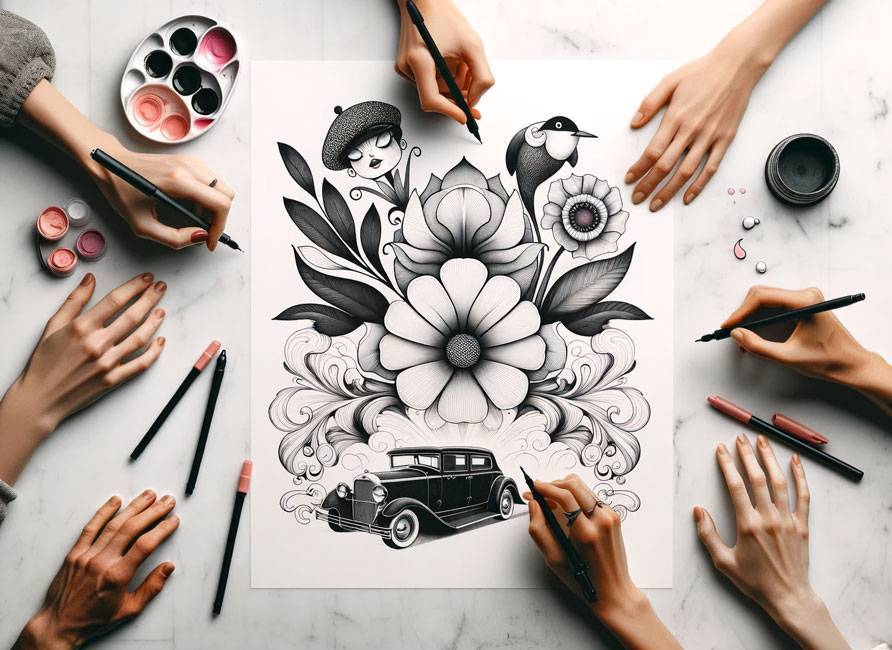 1) 150 Trendy Step-by-Step Worksheets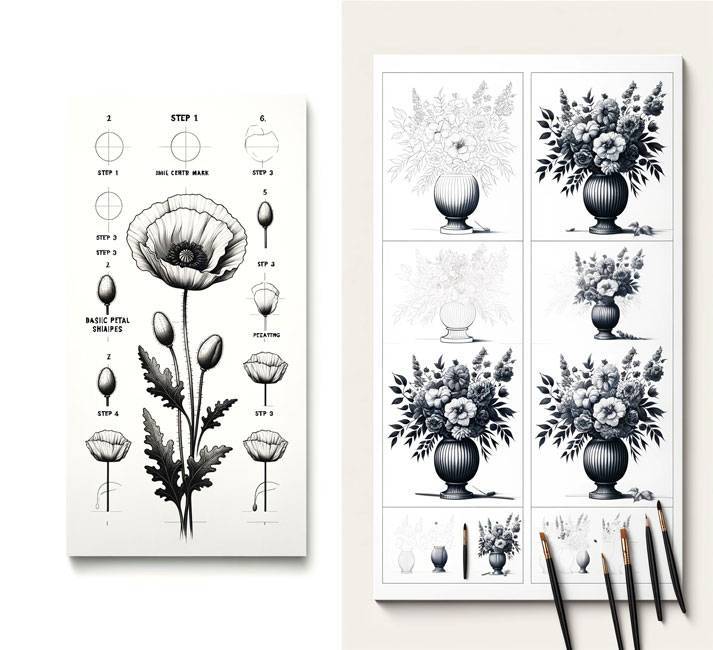 Our promise to you is simple: We will guide you, line by fine line, through a curated selection of the latest and greatest in drawing trends. From the peaceful curves of nature-inspired designs to the intricate details of urban sketching, you'll have the expertise of seasoned artists at your fingertips.
These guides don't just teach you to replicate; they encourage you to evolve – transforming blank pages into breath-taking creations that reflect your unique perspective and passion.
Solidify Your Foundations:
Trending Ideas: Stay current with what's popular in the art world; these worksheets cover trending topics to help keep your work relevant and engaging.
Hands-On Practice: Gain hands-on experience with a variety of subjects and styles, ensuring a well-rounded skill set.
Immediate Feedback: The satisfaction of completing each worksheet offers instant gratification and feedback on your progress, encouraging you to keep pushing forward.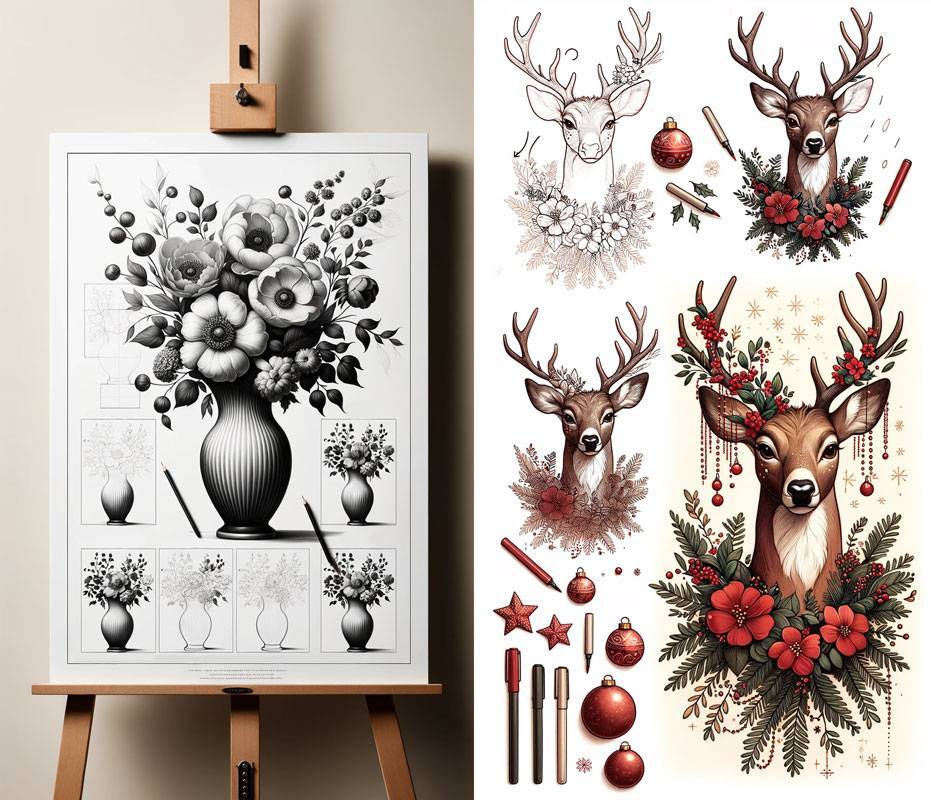 🌟 Fresh Off the Easel! 🌟
We've added dazzling new step-by-step worksheets, tailored for the season's trendiest festive art.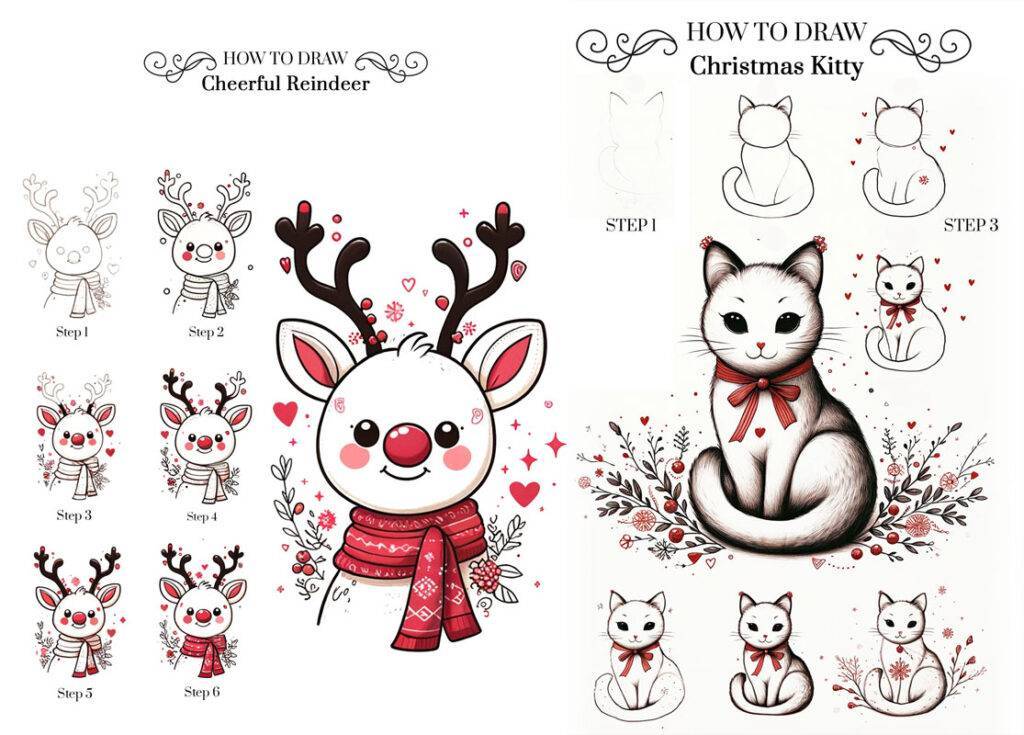 2) Your 30-Day Transformation with Techniques and Projects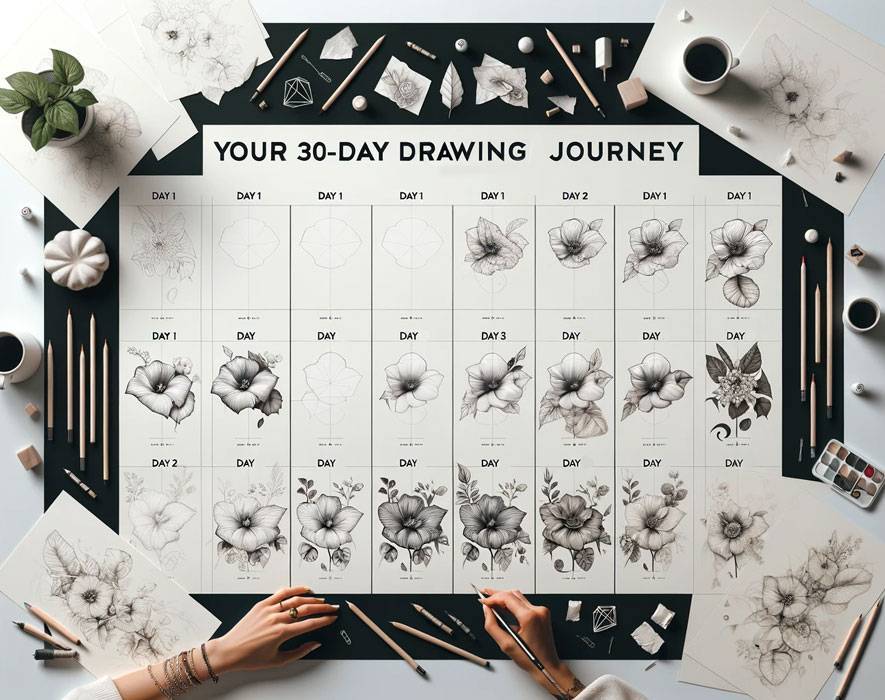 Unlock the Artist Within:
Daily Skill Building: Every day of "Elevated Artistry" is a step forward in your artistic journey, providing a clear path from simple strokes to complex scenes. Benefit from a structured approach that ensures progress without overwhelm.
Diverse Artistic Exploration: With a variety of subjects ranging from nature to emotional portraits, expand your artistic repertoire and never run out of ideas or inspiration.
Your 30-Day Transformation Full List of Topics
Day 1: Simple Shapes & Lines: The Gateway to Masterful Drawing
Day 2: Discover Nature's Art: From Delicate Leaves to Majestic Trees
Day 3: Zen Doodle Mastery: Ignite Your Inner Creative Flame
Day 4: Perspective Magic: Conquer One-Point & Two-Point Techniques
Day 5: Illuminate Your Art: Master Shading & Light for Stunning Drawings
Day 6: Experience Reality: Artful Texturing Techniques Unveiled
Day 7: 365 Drawing Delights: Your Daily Passport to Creativity
Day 8: Animal Essence: Perfecting Portraits with Simple Shapes
Day 9: Sketch a 'Meow-sterpiece': The Art of Captivating Cat Drawings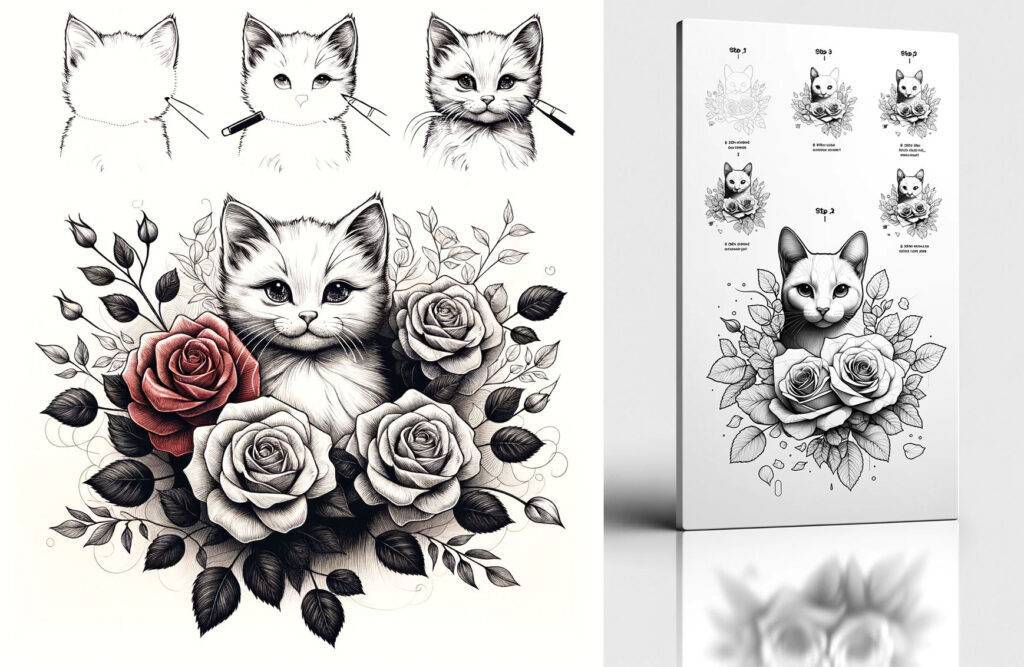 Day 10: Celebrate Loyalty: The Joy of Sketching Our Beloved Dogs
Day 11: Everyday Kawaii: Turn the Mundane into Adorable Masterpieces
Day 12: Botanical Beauty: Dive into Exquisite Line Art Techniques
Day 13: Layered Botanicals: Unveil Brilliance in Every Detail
Day 14: Floral Alphabet Magic: Design Mesmerizing Letters with Blooms
Day 15: Express Yourself: Dive into the World of Hand Lettering
Day 16: Unlock the Secrets of Mandalas: Find Your Inner Balance
Day 17: Master Human Anatomy: The Ultimate Guide to Drawing the Perfect Body
Day 18: Capture Motion Like Never Before: Make Your Drawings Dance
Day 19: Dive into Emotion: Draw Faces that Tell a Thousand Stories
Day 20: Epic Landscapes Await: Draw Views that Take Your Breath Away
Day 21: Texture Transformation: Turn Your Sketches into Touchable Wonders
Day 22: Shade Like a Pro: Illuminate Your Art with Depth and Drama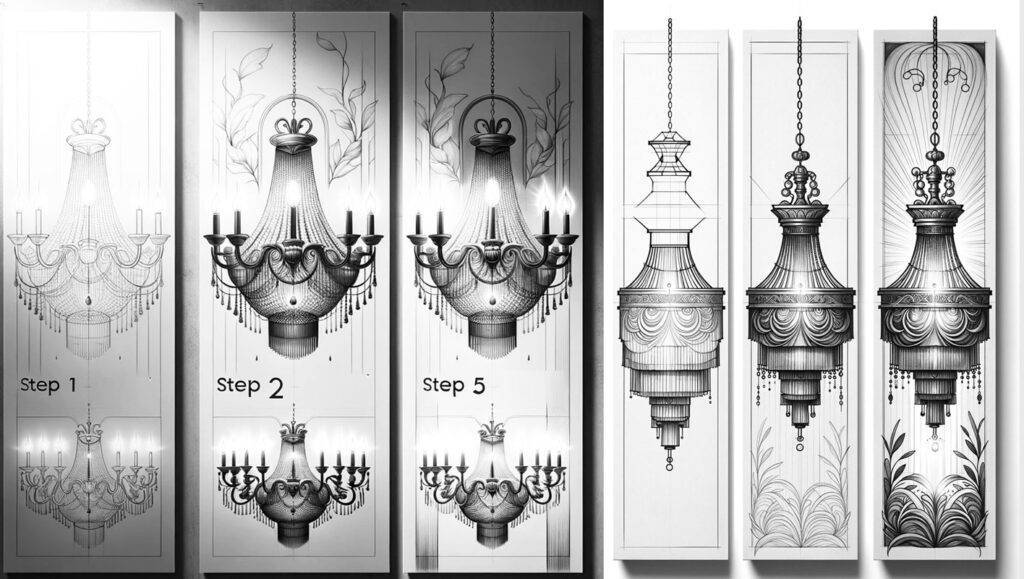 Day 23: Advanced Perspective Mastery: Dive into the World of 3D Sketching
Day 24: Feel the Rush: Draw Dynamic Scenes that Burst with Life
Day 25: 3D Magic: Make Your Drawings Pop Off the Page Like Never Before
Day 26: Animal Soul Portraits: Capture the Heartbeat of the Wild
Day 27: Beyond Faces: Dive Deep into the World of Emotional Portraits
Day 28: Landscapes Reloaded: Nature's Majesty in Stunning Detail
Day 29: Level Up Your Art Game: The Ultimate Drawing Challenge Awaits
Day 30: Boundless Creativity Day to Day. How to Guide.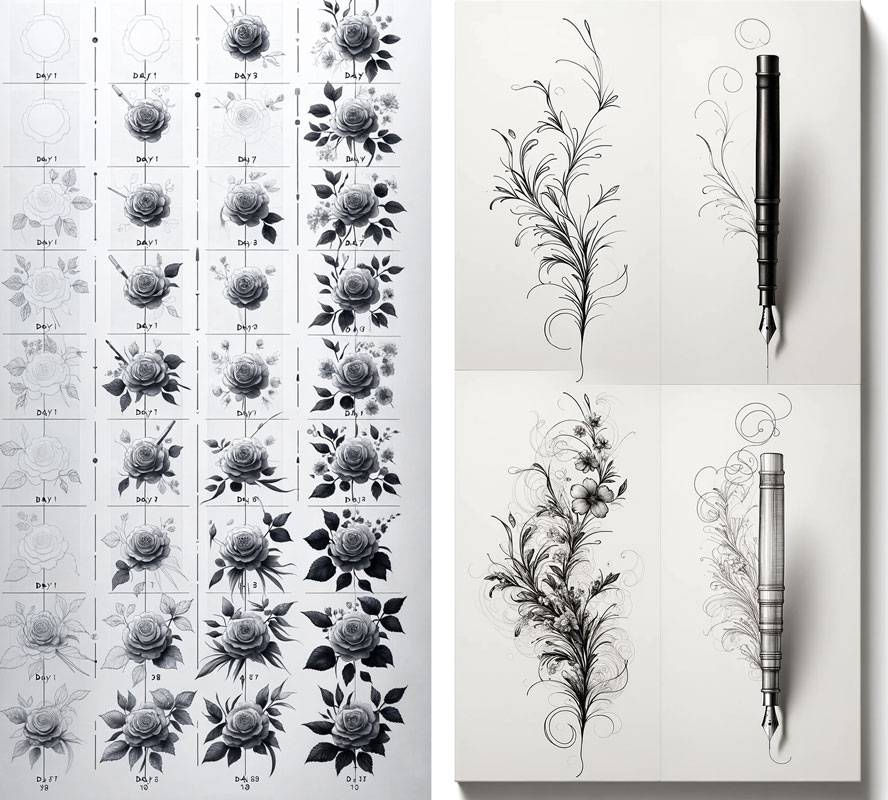 Benefits of this journey:
Creative Confidence: Each day is designed to boost your confidence, with projects that show visible improvement.
Personalized Art Journey: Tailored to adapt to your pace, the program allows you to see tangible results daily.
Lifetime Access to Skills: The techniques and projects you learn will serve you for a lifetime, turning the 30-day transformation into a lifelong adventure in art.
2) 25 Unique How-to Videos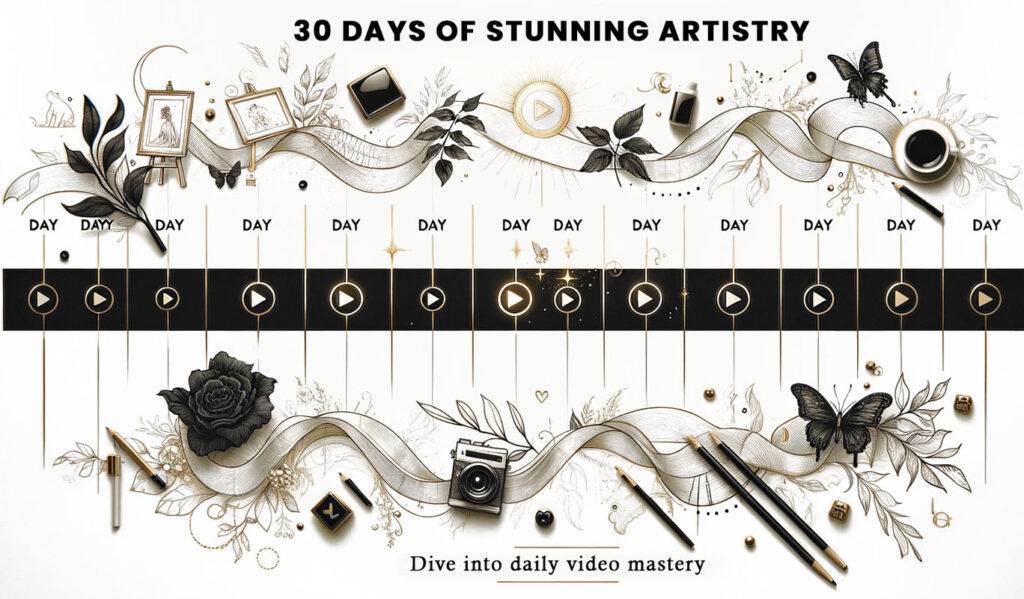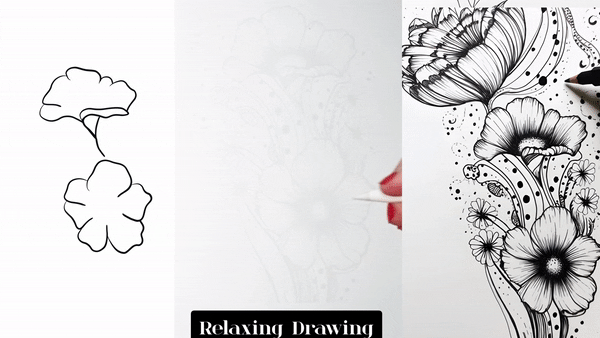 Accelerate Your Learning Curve:
Expert Tricks at Your Fingertips: Access to exclusive tips from professionals that can transform the way you draw, making complex techniques accessible and fun.
Visual Learning Advantage: For those who learn best visually, these videos are a game-changer, demonstrating techniques in action for enhanced comprehension.
Progress at Warp Speed: These how-to videos are designed to fast-track your learning process, helping you to achieve in weeks what might normally take months.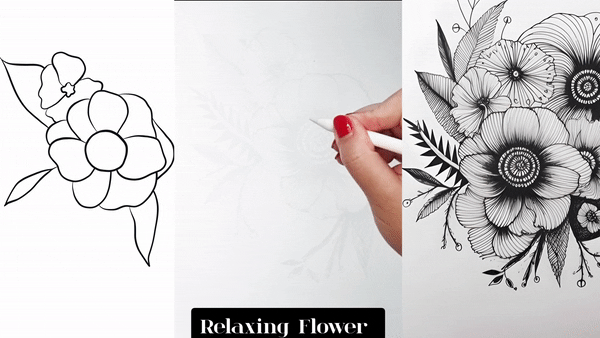 "Never in my wildest dreams did I think I could learn to draw, but 'Elevated Artistry' changed all that. The structured daily tasks made drawing approachable and fun, and the how-to videos felt like a masterclass in my living room. The worksheets were invaluable, providing a guided practice that cemented what I learned. This program has been an awakening for me creatively, and I'm just getting started!"
BONUS: Unique Blossoming Worksheets for Flower Lovers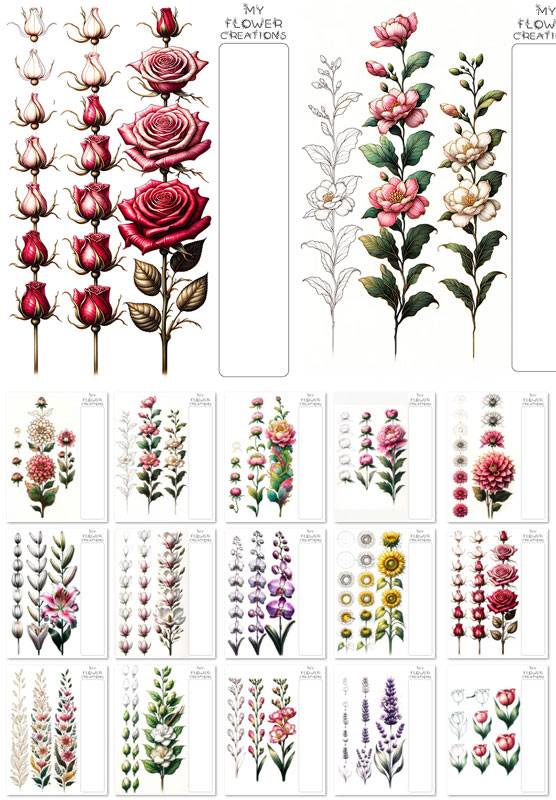 Bloom with Botanical Sketching:
Floral Mastery: These bonus worksheets are specially designed for those who love the delicate intricacy of flowers, helping you to specialize in one of the most beloved drawing subjects.
Therapeutic Art Form: Engage with the therapeutic side of art through the peaceful and calming practice of drawing flowers, which can be a meditative and restorative activity.
"Elevated Artistry" isn't just a drawing program; it's a comprehensive art transformation experience, providing you with the tools, techniques, and confidence to turn your artistic aspirations into tangible, beautiful artworks.
With these extensive benefits, your investment in this tookit is not just in learning to draw, but in unlocking a new dimension of joy, relaxation, and creativity in your life.
All Access Pass: Elevated Artistry
Unlock a vibrant world of creativity with everything at your fingertips! This all access pass includes 150 trendiest, step-by-step guides plus bonus worksheets for a super fun and well-rounded artistic journey. It's all about having a blast while you learn!
✔ NO subscription fees, NO expiry date!
✔ Over 5,179 happy customers & counting

Full Bloom Club 100% Happiness Guarantee applies: no questions asked refund policy.
Explore Your Way: 'Elevated Artistry' Essentials
Ready to explore art in your own style? Our Explore Pass gives you all the essential videos and tools to spark your imagination without step-by-step worksheets. Perfect for those who enjoy learning freely, without following every step. Dive in and let your creativity soar!
✔ NO subscription fees, NO expiry date!
✔ Over 5,179 happy customers & counting

Full Bloom Club 100% Happiness Guarantee applies: no questions asked refund policy.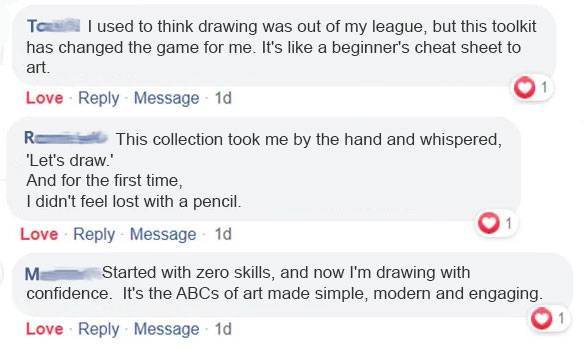 "Elevated Artistry has transformed the way I approach drawing. The progress I've made in just 30 days is astounding!" – Sarah J.
"The blend of traditional and modern drawing techniques is a game-changer. I now have a solid foundation to explore any art style I desire." – Michael R.
Craving a deeper dive into the world of creativity?
Introducing our exclusive VIP subscription.
For those who truly cherish the art of creation, this is a golden ticket to an all-access pass, encompassing not just this collection, but every collection we've lovingly crafted.
Here's the deal: if you're contemplating purchasing even just two of our collections, the VIP subscription offers a more economical choice. For the same price, you're not only getting those two collections but unlocking a treasure trove of over 500+ additional resources.
It's unparalleled value, designed for the true art aficionado. Dive deep into a world of endless inspiration with our VIP experience." 🎨🌟
Passionate creator
monthly subscription
Legend
annual subscription
Save 70% $139.99 paid yearly
We offer 100% Happiness* guarantee.
Feeling creative but not quite sure yet
if our digital products are the right fit for you? No problem! With our 100% happiness* guarantee, you can try out our products with confidence, knowing that if you're not completely satisfied, you can get a full refund. So why wait? Let your inner artist shine and take the plunge into creative bliss with our top-quality products!"