Prepare to transcend into a realm of zen doodle mystique. Drawing zen doodle cats is akin to composing a symphony – each stroke a note, every pattern a melody. Behold our grand guide to crafting world-class zen feline masterpieces.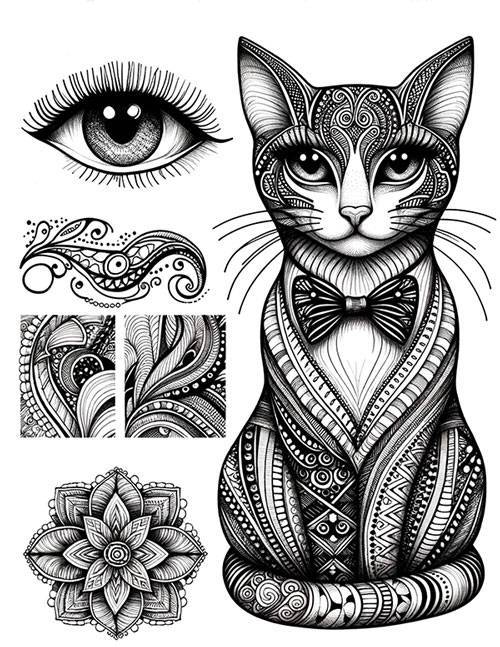 Download this & Other 50 Timeless Zen Doodle Cats
1) Embark with Grandeur: Every cat is royalty in its own realm. Whether it's the 'Graceful Stride' of a duchess or the serene 'Zen Prowl' of a sage, your canvas should echo their regality.
Tip: Begin with a majestic crown or a stately collar. Every royal needs their jewels!
2) Whisker Wisdom: Whiskers aren't mere fur strands; they're the quills of feline lore. The tales they could tell of the 'Zentangle Wanderer's' escapades or the 'Elegant Explorer's' soirees!
Tip: Use thin, delicate strokes for whiskers, letting them flow naturally, each telling a tale.
3) Eyes: The Soulful Oracles: Eyes are more than visual orbs; they are the mystic portals to their zodiacal dreams. The 'Graceful Stride's' eyes? They've seen galaxies being born.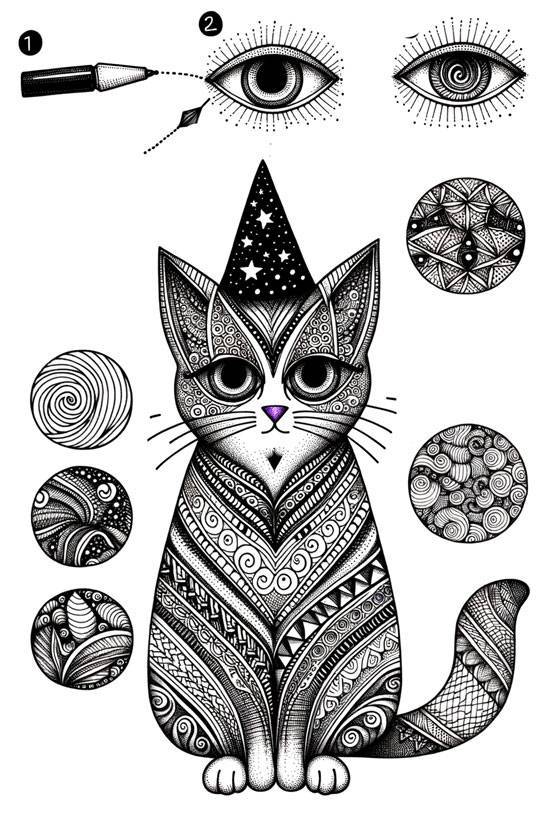 Download this & Other 50 Timeless Zen Doodle Cats
Tip: Incorporate galaxy or star patterns within the eyes for a touch of cosmic allure.
4) Tales of Tails: A cat's tail is its chronicle. A high, curved tail sings of the 'Zentangle Wanderer's' legends, while a relaxed one whispers the 'Zen Prowl's' ancient secrets.
Tip: Intertwine zentangle patterns within the tail, making it a focal storyline.
5) Paws with Prestige: Paws can hold scepters or write sonnets. The 'Graceful Stride's' paws? They've danced on moonlit clouds.
Tip: Draw paws with soft cloud or moon crescent patterns to capture their ethereal touch.
6) Patterns of Prowess: Zen patterns echo the heartbeats of ancient feline pharaohs. Their fur? A canvas of epochs gone by.
Tip: Experiment with hieroglyphic zentangle patterns to infuse a touch of antiquity.
7) The Grand Cat Saga: Every cat is an epic waiting to be told. Perhaps the 'Zentangle Wanderer' once ruled a distant star, or the 'Zen Prowl' was a guardian of sacred temples.
Download this & Other 50 Timeless Zen Doodle Cats
Tip: Surround your cat with zentangle patterns resembling temples, pyramids, or stars.
8) Lines Laden with Legacy: Each stroke carries a dynasty's weight. Perhaps that unintended line is a river where 'Zentangle Wanderer' once sailed!
Tip: Turn unintended lines into rivers or pathways, each leading to a new adventure.
9) Palette of the Pantheon: While monochrome is classic, dare to drench your canvas in hues befitting the gods.
Tip:Add gold or silver zentangle highlights, giving your art a divine sheen.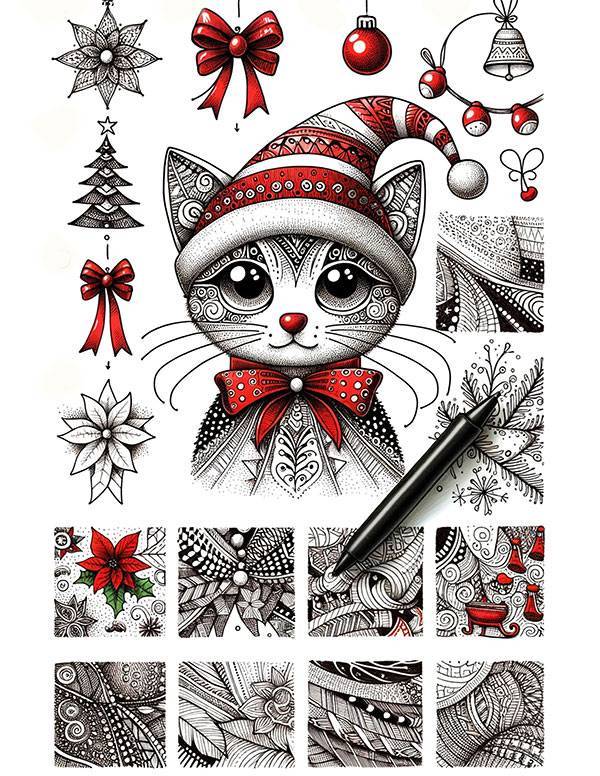 Download this & Other 50 Timeless Zen Doodle Cats
10) The Divine Distinct: Every cat is a deity in disguise. A tiara for 'Chic Contessa' or a sun halo for 'Modish Muse'?
Tip: Infuse aura patterns around your cat, signifying their divine essence.
11) Sketch with Sovereignty: Embrace errors. That unintended line? It's the 'Zentangle Wanderer's' secret path!
Tip: Transform mistakes into hidden treasures or secret paths within your artwork.
12) Colors of the Cosmos: Venture beyond earthly hues. Bathe your 'Zen Prowl' in nebulas or cloak your 'Elegant Explorer' in constellations.
Tip: Integrate galaxy patterns or celestial bodies within your cat's silhouette.
13) Purr-spective of the Pinnacle: Alter angles. Capture the bird's eye view of 'Zen Prowl's' kingdom or 'Elegant Explorer's' realm.
Tip: Surround your cat with zentangle patterns of mountains or valleys, showcasing their vast domain.
14) Doodle & Divine Dreams: Let spirits guide your hand. Perhaps 'Zentangle Wanderer' dreams of cosmic caravans or 'Zen Prowl' of ethereal realms.
Tip: Integrate dreamy zentangle patterns like floating islands or magical portals.
15) Reflect & Revere: Step back, pay homage to your creation. Does it exude the aura of a deity? Does it echo tales of yore?
Tip: Add final touches like radiant beams or sacred symbols to elevate its divine nature.
16) Conclude with a Celestial Chorus: Rejoice in your masterpiece's birth. In the grand tapestry of zen doodle cats, each is a star, waiting to shine the brightest.
Tip: Sign your artwork with a zentangle-inspired signature, making your mark in the pantheon of zen doodle legends.
In the opulent opera of zen doodle cats, you're the maestro. So, wield your pen with grandeur, let your imagination soar, and craft feline fantasies that echo through the ages. 🐾✨
Download Resources & Bonuses
Download this & Other 50 Timeless Zen Doodle Cats
Whiskered Wonders: The Ultimate Zen Doodle Collection! Dive into the mesmerizing world of Zen Doodle cats.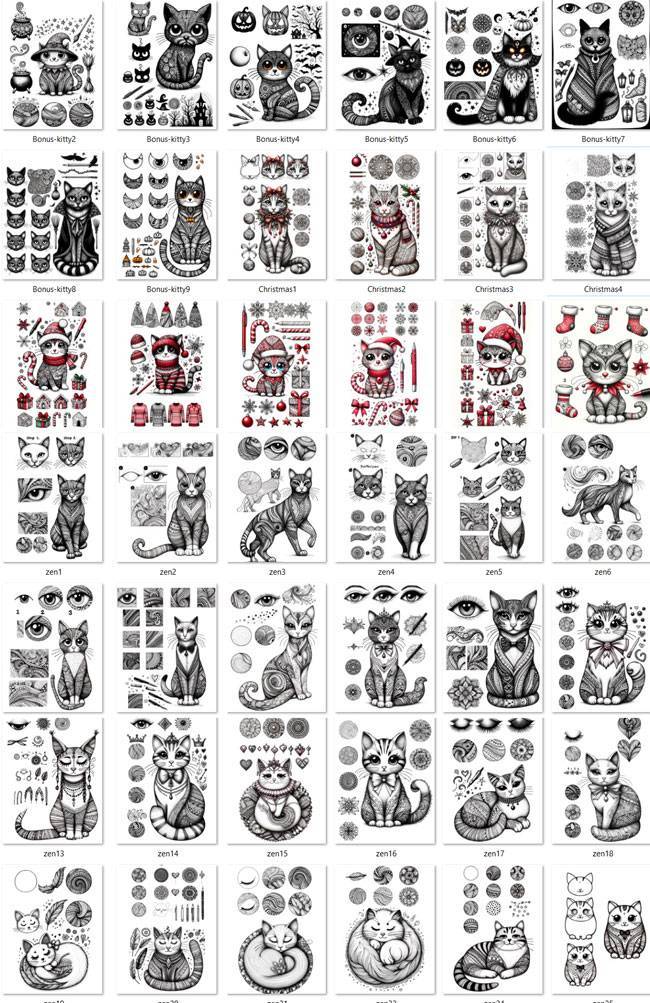 Download this & Other 50 Timeless Zen Doodle Cats
🐾 Benefits of Our Collection:
Unique Artistry: Dive into a world of 50 unique Zen Doodle cat designs, each crafted with love and intricate details.
Personalized Gifts: Perfect for transforming any design into a cherished keepsake for your loved ones.
Greeting Cards Galore: Create stunning greeting cards suitable for every occasion, from birthdays to Christmas and everything in between.
Crystal-Clear Prints: Our high-resolution downloads ensure that you get sharp, clear prints every single time.
Infinite Creative Possibilities: Use our designs for crafts, apparel, home décor, and so much more. Let your imagination run wild!
Unlock Your Inner Artist: Each of our designs is not just a piece of art but also a source of inspiration, invoking creativity and offering relaxation.
Download this & Other 50 Timeless Zen Doodle Cats
+ BONUSES!!! Halloween & Christmas Zen Doodle One of A Kind Cats included