Hello! Want to speak to us? We want to hear from you!
Please first read FAQ below as they might answer your questions!!
Is this a subscription? Is it going to be a montly charge?
We DO NOT have any subscriptions!
All our products have ONE OFF fee and you won't be charged on a monthly basis for anything on our website.
✔️ No subscription fees, No expiry date!
I haven't recieved my confirmation email
For INSTANT ACCESS: Your access details will be displayed on the thank you page straight after your order so you can use them for instant access.
For FUTURE ACCESS:
Please allow 1-2 hours for the confirmation email to arrive, it will have the links to access your purchase(s).
If you still haven't received it after please send us an email at [email protected] to let us know so we send the access within 24 hours manually.
How do I access my purchase if I closed the downloads page and forgot the details?
Please search your inbox for the confirmation email from Full Bloom Club titled "Your Full Bloom Club order is now complete" and click the links in the order details - see below - to access your files at any time.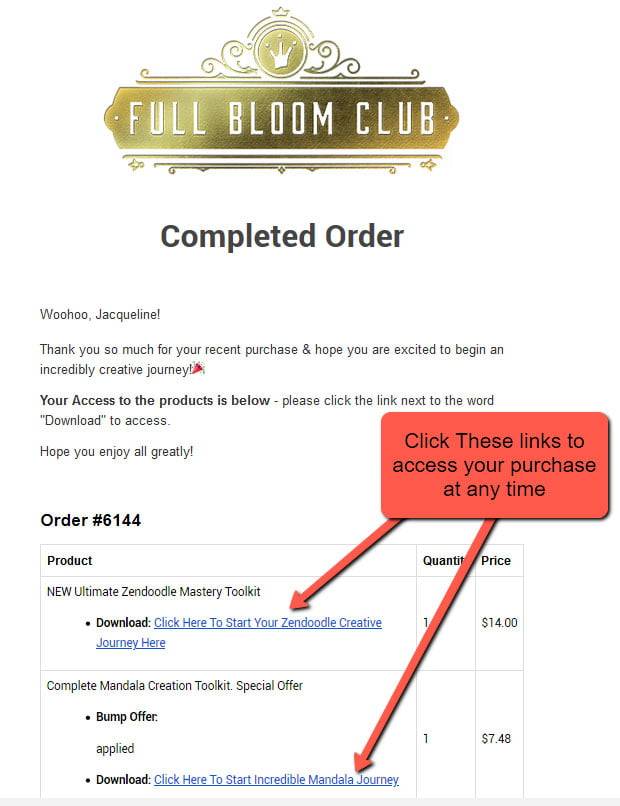 Which App do you use for iPad/Tablet?
We use an app called Procreate for iPad.
For mandala creation there is an awesome app called Amaziograph.
Can you recommend which pens/paper to use for my art?
Can I sell my creations that used your frameworks/commercialize them or use with commercial purposes?
At the moment all our digital files and resources are for personal use ONLY and we are working on creating commercial licensing for them.
We do allow to sell an end physical product (being art on paper and canvas) that is filled with your art, however we DO NOT ALLOW any digital redistribution of original or modified files that are based on our resources.
Please use the form below to get in touch.
We respond quick (usually less than 24 hours)!
Please kindly note:
if you haven't recieved your confirmation email within 30 mins and it is not in your spam folder, please send us an email to
specifying your email and order details and we will send you the access to the products manually.
Sometimes these technical inconveniences happen, very sorry about that & thank you for your patience and understanding😍
Full Bloom Club
www.fullbloomclub.net
20-22 Wenlock Road
London
N1 7GU
United Kingdom
Phone: +44 7395198593