Meaning of Color in General
There are absolutely no rules to use color when coloring, however it is believed that colors have certain meanings and tell about our character, such as:
Yellow symbolizes joy, great enthusiasm, happiness, warmth, wisdom, prosperity and joy. For those who use it shows that they are creative people in their field.
Black symbolizes despair, death, darkness, emptiness, danger, power, elegance, authority. "The color black affects the mind and body by helping to create an inconspicuous feeling, boosting confidence in appearance, increasing the sense of potential and possibility, or producing feelings of emptiness, gloom, or sadness."
Red symbolizes great energy, strength, love, passion, courage, danger, vitality, sacrifice and blood. People who use a lot of red are strict people who have a purpose in life, are not fickle or follow the flow of life that is not clear .
Green symbolizes life, tenderness, freshness, hope, understanding, kindness always wants to help. People who use green a lot are usually individuals who have a good emotional balance in life.
Blue symbolizes calm, peace, life, mystery, sky, intuition. People who use this color usually have wisdom, good intuition in living life and are faithful and sincere.
Brown symbolizes earth. "

The color brown affects the mind and body by creating feelings of wholesomeness, stability, and peace."

Orange symbolizes strong, cheerful, warm, attractive emotions and ambitions. People who use a lot of this orange can usually be a leader because of the firmness and ambition they have and there is always enthusiasm in their lives.
Purple symbolizes mystery, melancholy, sorrow. It is also associated with

"wealth, extravagance, creativity, wisdom, dignity, grandeur, devotion, peace, pride, mystery, independence, and magic." People who love using purple are believed to have developed intuition, have an interest in spiritual subjects and be moody at times.

White symbolizes simplicity, lightness, brightness and positivity.
Gray symbolizes politeness, calm and simple.
The Meaning of Mandala Color for Health
In addition, the color of the Mandala is believed to be able to cure the disease. Some research shows that colors influence differently our bodies:
Red, for those who suffer from heart disease and circulatory disorders and people with anemia;
Orange can reduce stress and depression and normalize the pulse;
Green can calm the nervous system, help with colds, colds, maintain eye health and can normalize the body's metabolism;
Yellow can stimulate the brain so that it can think clearly and healthy, help digestion and maintain the health of bile;
Blue can neutralize inflamed skin, help heal burns, reduce pain, help stop bleeding and reduce pressure or stress;
Violet can help with sleep problems, but if you use this color too much it can cause depression.
In addition to color, Mandala has various famous shapes and meanings behind them:
Lotus Flower Mandala Design
Lotus design is the most commonly found, because it is believed to provide enlightenment. There are several lotus designs such as:
Ganesha Yantra, which is a form of elephant called Ganesha which is a deity for Hindus who symbolizes spirituality.
Sri Yantra is a lotus-shaped symbol of consciousness with 16 petals surrounded by triangular shapes.
The Trident Yantra, which means peace, is in the form of a lotus with a trident / trident, yaotu stick with 3 branches like a fork.
Gabhadhatu Mandala, this motif is believed to be a form of residence of several gods.
Nava Padma Mandala, this design is the actual shape of the lotus, in the form of a large lotus flower.
Elephant Mandala Design
The design of elephants in the Mandala is believed to enlighten and control positive thoughts, it also represents a symbol of knowledge, wisdom, strength and luck.
Mandala Flower Design
This design is geometric in shape with overlapping circles that are complicated yet beautiful like flower petals. This form is trusted for health.
Circle Mandala Design
This design can inspire yourself to improve concentration so that you can focus on something.
Geometric Mandala Design
This design is very complex and complicated which illustrates the relationship between nature, soul and humans. One form is a pyramid.
Whatever the design, shape, color chosen in coloring the Mandala, they all provide a pleasing effect and make life more colorful and free from stress.
Download our premium free collection of mandala designs here and Bloom For Yourself🌸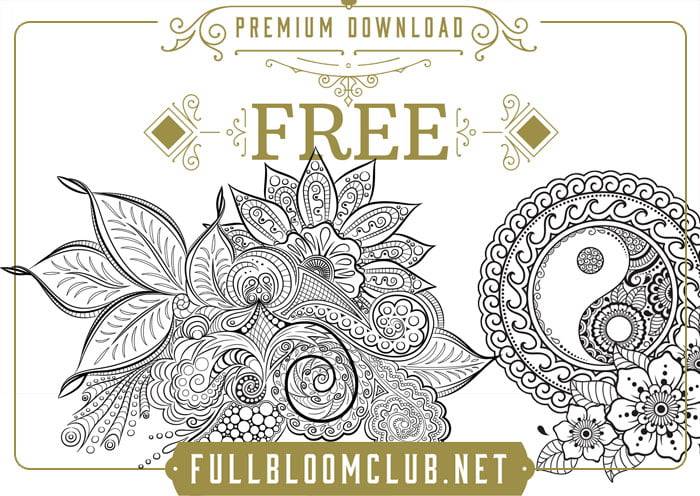 Please note – the information is not a medical advice and for reference only. Sources: 1, 2, 3