The mandala can significantly improve our quality of life through this fabulous art therapy: mandala coloring. There is no better technique to relax. Coloring pages for adults immerses us in a deep peace, which then influences all areas of life positively.
Click here to print our FREE Mandala coloring page collection.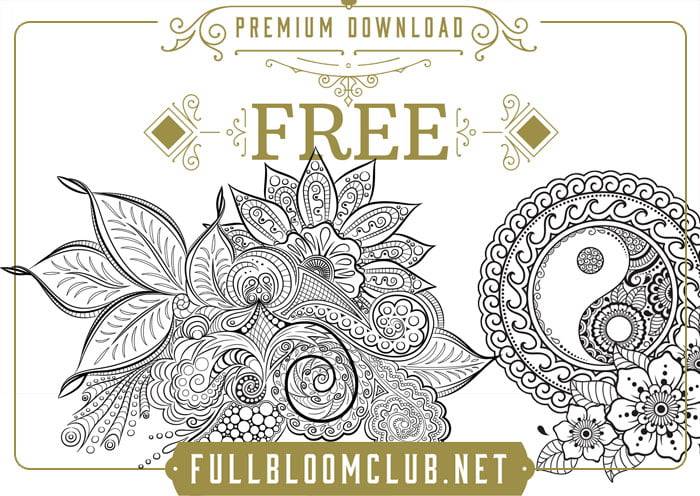 In recent times mandalas have become fashionable, because they are beautiful and aesthetic graphic designs. You can see them on different walls in the city, on tattoos, on magazine covers, on book covers, etc. What few people know is that mandalas help achieve self-knowledge and emotional balance.
The world of mandalas is a world worth knowing because they can give us many benefits.
To begin with, we could define the mandala as a drawing representing the cosmos, which has a ritual or spiritual utility. The word mandala means "circle" in the Sanskrit language. The mandala was born in India, first spread all over Asia and then all over the world. This element is very popular among those who profess the Hindu and Buddhist religions.
The mandala coloring pages help us to get to know a new world and to access a part of ourselves, which we are not used to accessing directly.
Mandala coloring pages powerfully develop our concentration, awaken our creativity and activate the five senses.
You probably never imagined that a childish activity as tender as coloring pages could do so much good to your spirit, but that's the truth.
The famous Swiss psychiatrist Carl Jung said that drawing and coloring mandalas helps the individual to find and perfect himself. In addition, the psychiatrist defined mandalas as a profound expression of the collective unconscious.
We invite you to know the multiple benefits of coloring mandalas.
Wake up to creativity
Painting and creating mandalas involves a creative process that we set in motion just like when we were children. We must choose colors, then combine them so that they are aesthetically distributed, according to our opinion, of course. Remember that your mandalas will always be well made, because they are a faithful expression of yourself.
You will be able to relax deeply
There is nothing more relaxing than coloring mandalas. As you do it, your mind quiets down, your heartbeat slows down and your breathing slows down. There is something even more surprising: when you look at a ready-made mandala, your mind immediately calms down.
Strengthen your ability to concentrate
While coloring mandalas you try to make those geometrical figures have symmetry, while coloring in a balanced way. This simple task takes a lot of concentration. Then you apply this strengthened concentration capacity to other areas of your life.
Reduce anxiety
Coloring mandalas allows you to get away from the pressures and worries of everyday life. For a while your task is to colour a beautiful mandala. That simple activity takes away all the accumulated stress. Coloring mandalas allows us to become children again and to be wise like them, who do not let themselves be dominated by worries.
Identify emotions
Many people have trouble identifying their emotions, they just "don't know what's wrong with them". That's why adult coloring pages can greatly help them discover their emotions. Choosing certain colors and certain mandalas coloring patterns signals certain moods and therefore certain emotions. With the help of a trained professional, you can decode and identify through the mandalas you have made, what emotions you have.
Gain self-knowledge
By discovering our emotions we become aware of our inner world. We are no longer that person "who doesn't know what's wrong with him". Now we understand our emotions, we can know the reasons for our feelings and how to overcome an unpleasant situation. By identifying our emotions, we are able to make an internal change that will lead us to be happier and more satisfied with ourselves.
In the mandala coloring pages you will discover aspects of yourself of which you may not have been aware and it is about time they came to light.
Meditate
When we color a mandala we are practicing a form of meditation: mindfulness, i.e. full attention on one task only.
The wonderful thing about any kind of meditation is that it allows you to see life from a new and improved perspective. When we color mandalas we become disconnected from our daily problems, but then we have more wisdom to solve them. That happens because our mind is more relaxed and it is easier to find solutions to any issue.
Cognitive stimulation
When we color mandalas the two hemispheres of the brain are activated: the right one, in charge of intuition and creative activities and the left one, in charge of everything rational and logical. After coloring a mandala, the neurons are actively connected. Logically, this has a positive influence on all our activities, not only when we color mandalas.
Mandala coloring: dare to start
The good thing about coloring mandalas is that there are mandalas for every particular taste. The ideal is to start by coloring large mandalas to become familiar with this task. Then you can color small mandalas, which are the most relaxing and stress reducing. When you start to color simply let yourself go with this task, because the more you relax the more interesting aspects you will discover about yourself. Once the mandala is finished, it can be interpreted by a trained professional, a book specialized in the subject or you can also interpret it yourself, letting yourself be guided by your own intuition.
Conclusion
Mandala coloring is something that can do a lot of good in your life. It is only a matter of daring to be a child again with this activity that will allow you to identify your emotions, understand them and then become a happier person.
Mandalas contain graphic designs that say a lot about you and that information can be crucial in solving problems that you may have missed.
Mandala coloring can be the key to discovering what is going on inside you. If it is something that makes you suffer, you can change it, reverse it and start living better right now.
Sign up below to view & download our premium unicorn collection.