This cute coloring page portraying Kawaii company has been drawn in the times of social distancing! The time that even the most introverted of us 🙂 feel that it is good sometimes to have a COMPANY!
A remarkable fact about "Kawaii" as a word (which means "cute" in Japanese and represents the whole movement in arts and culture) is that it is really widely spread and commonly used.
The word not only implies that someone or something is adorable, sweet, endearing and, well, cute, but also it is used in SO many extraordinary ways…  Cute bird! Cute policeman! Cute weights in the gym! Cute fried fish! Haha the last one is my own creation since living in London and the famous Fish and Chips is everywhere and some of it is reallyyy cute indeed!
Now, armed with this fact you can not only print out this kawaii company and color in with joy, but also exclaim "Kawaii!" next time you see a person on the street or something joyful! Making a note of joyful things and sharing them is considered as good as an art therapy so just go for it 🙂
If you want to know how to draw one yourself just click to watch this short video that shows the process!
You can download the zip files by clicking the button at the end of the post.
Time to get creative with this cute Kawaii Company Printable Coloring Page!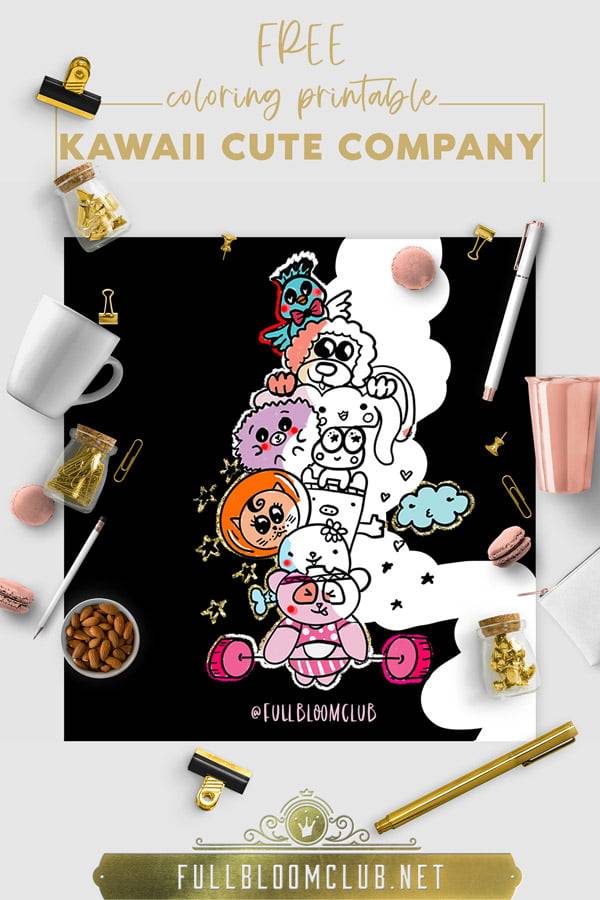 Download the printable by clicking the button below. Simply extract the files to your computer, print & enjoy!
Don't forget to check out our other collection of Kawaii cute art. Ranging from wall art to svg files for your next cute cup they are very likely to bring you joy & smiles all day every day!