When you are craving for cuteness or want to have a great time coloring with kids, this cutie might be a great choice! I bet he would look cute in any other circumstance – not only when sharing a candy and making friends with a butterfly!
However, might be a good idea here – sharing chocolate has always worked for me to say thank you and ask for something too! Yikes! 🙂
By the way, there is a secret behind drawing a cute character like this and also 1 trick that works 100% of the times to add lots of cuteness to ANY character. Wanna know? I teach about this in the course that comes as part of VIP membership. Find out more here.
But I will share one remarkable but usually overlooked feature of many Kawaii characters – BIG EYES! Yes, like babies, these cute characters with big eyes are naturally perceived as cute due to this amazing feature. Now you can make your next doodle a cutie by adding big eyes to it and a mysterious smile! Or a simple smile! Any smile is good 🙂 (unless it is a bad a$$ smile thinking not so glorious thoughts… but more about those type of characters in another story!)
If you want to know how to draw one yourself just click to watch this short video that shows the process!
[elfsight_instagram_feed id="2″]
You can download the zip files by clicking the button at the end of the post.
Time to get creative with this cute Kawaii Printable Coloring Page!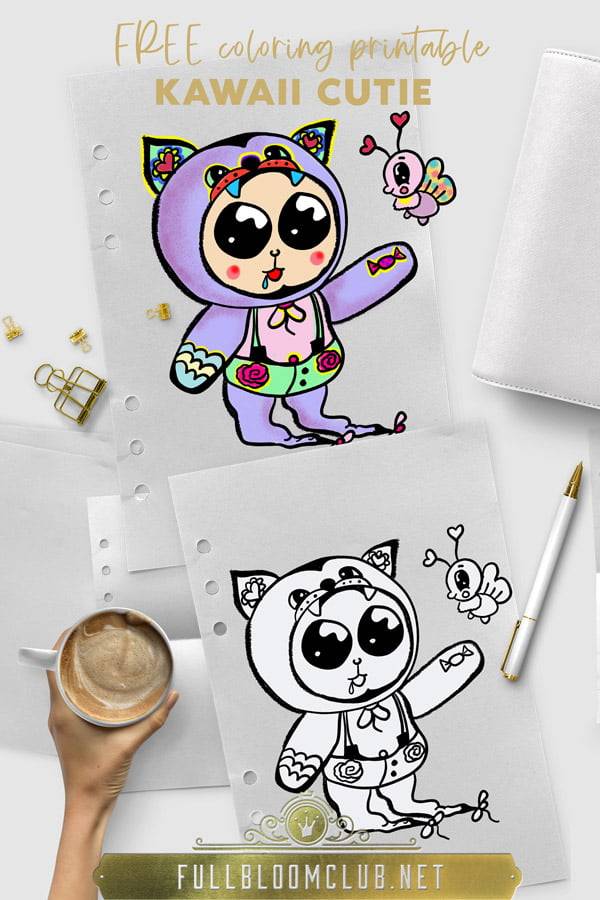 Download the printable by clicking the button below. Simply extract the files to your computer, print & enjoy!
Don't forget to check out our other collection of Kawaii cute art. Ranging from wall art to svg files for your next cute cup they are very likely to bring you joy & smiles all day every day!